Some girls scream for ice cream, the Nordstrom half-yearly sale or the new Channing Tatum full-length shirtless feature film, but I get fired up for Copper River salmon time. Although I do prefer my salted caramel ice cream, 40 percent off designer pumps and my Tatums disrobed, Copper River salmon season is so short and precious, it needs to be celebrated, cashed in on and consumed.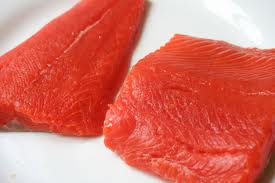 The season kicks off in mid-May and runs until late July, directly importing the fresh fish to the Seattle markets from Alaska's rough and rugged Copper River. Because the river is such a feisty and mighty SOB, the salmon themselves are armed and protected with extra fat, oils and goodness to ensure their survival down the river. This Darwinistic technique not only gets the salmon to the other end of the river, but packs the rich and sumptuous meat of the fish with flavorful fats and oils.
Because they're worth it, Copper River salmon can hold a hefty price tag. Ranging between $25 and $35 per pound, shop your local grocers, Asian specialty markets and fishmongers for the best deal.
Eating: Hazelnut-crusted grilled salmon (on a recipe built for two)
1 pound Copper River salmon filet
Preference of salt and pepper (go big or go home, wussies)
Hazelnut butter spread
¼ cup finely chopped and smashed toasted hazelnuts
3 tablespoons salted butter
1 tablespoon of chopped tarragon
1 tablespoon of fresh-squeezed lemon juice
Toast chopped hazelnuts in a skillet on medium heat, shaking the raw nuts around the hot surface to toast without burning for two-three minutes. Mix nuts into softened butter with chopped tarragon and lemon juice. Lay salmon filet on a sheet of foil, use half of spread on the pink of the fish. Place on medium-high grill, cook for 4 minutes then reapply spread. Cook for another 4-5 minutes or until you can flake the fish with a fork. Doneness depends on weight and thickness of fish.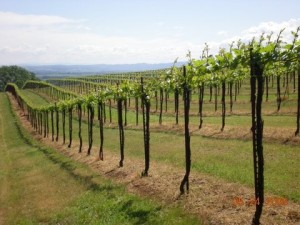 Drinking: Raptor Ridge 2007 Meredith Mitchell Vineyard Pinot Noir — The 23-year-old 25-acre vineyard is a hidden gem within the McMinnville appellation of Oregon. Planted with the prestigious Pommard Pinot Noir clone (see Burgundy, France) and made famous by Ken Wright Cellars, Scott and Annie Shull of Newberg, Ore."s Raptor Ridge Winery were one of the original purveyors Habla Espanol?Weather and girls school uniforms alerts will appear here. to the vineyard and haven't turned back since.
Their 2007 vintage is not only a testament to the vineyard but to the winemaking abilities of Scott Shull. The vintage was a shifty one, proving to be one of the most difficult on record with wet weather and unpredictable sunshine. Pushed aside as a washout year, the 2007s made their comeback a few years later when they just started to sing in the bottle and every producer was already out of stock. I weaseled my way into a case of the remaining boxes of this 2007 Raptor Ridge Meredith Mitchell Pinot Noir and haven't regretted a single ounce consumed.
The Specs: This vineyard with this particular producer strikes a nostalgic chord with me because of its dynamic aromas of hazelnut and red berry fruit (red currants, raspberries). Reminds me of a Nutella and jam sandwich every time — childhood heaven. Pairing Pinot Noir with salmon is a seafood and red wine savior, however, the simple, savory components of this recipe really enhance the juice to a higher ground. The acidity of Pinot Noir is friendly fire to go up against (or with) the richness of salmon, while the sweetness of the tarragon matches the ripe red fruit and the hazelnut crust with this specific wine makes all the difference in a perfect pairing. You're welcome.