Richard Linklater released his decade-long masterpiece Boyhood in 2015 to rave reviews. After spending 12 years filming your magnum opus what would you do next?  In Linklater's case it's bro-out, HARD.  And honestly, I can't blame him.  Linklater has always toed the line between exploitation and his signature laid back charm so after completing a nearly impossible task like filming an entire fictional family literally grow up – I'd probably go back to that well too.
Being billed as the "spiritual sequel" to his 1993 high school masterpiece Dazed and Confused – Everybody Wants Some!! in many ways lives up to the marketing moniker. It employs a similar narrative pace – three days before the start of fall semester a nameless Texas university baseball team congregates in their new off-campus houses to meet each other, party and then party some more.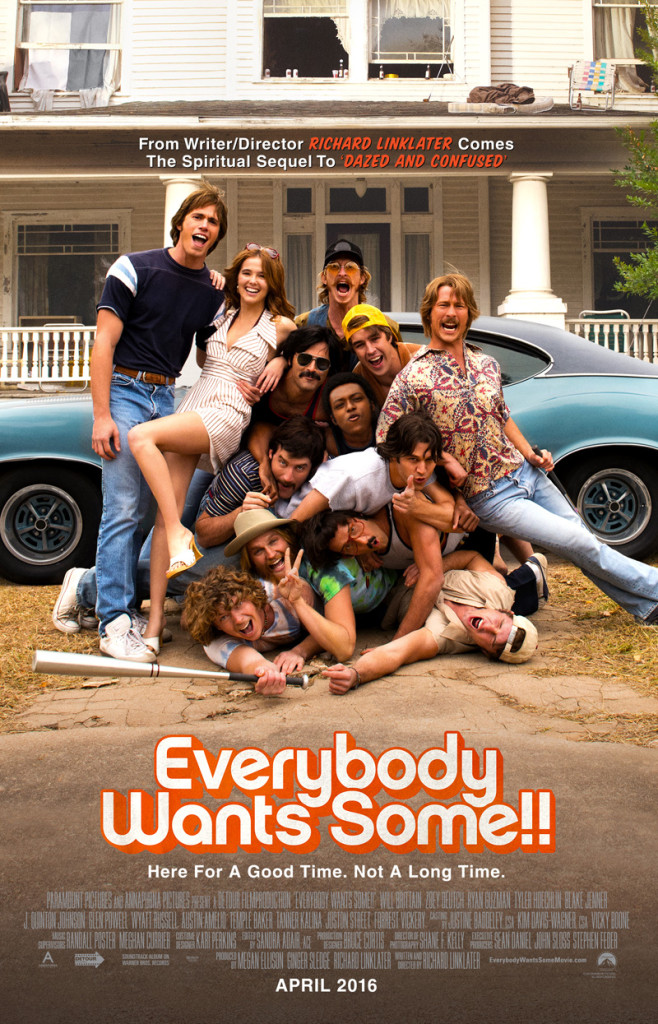 It leads the ensemble down a plotless rabbit hole of self-discovery.  Jake (Blake Jenner) is the new freshman pitcher on the scene and the film opens with him driving into town while My Sharona blasts through the speakers.  It's late summer 1980 and Jake quickly learns that college is going to be a little different than…wherever he came from (not a really important detail.)  At the house he meets a proverbial parade of hard drinking, tale chasin' boys with one mission – slay it with the ladies.
Finnegan (Glen Powell) is a fast-talking charmer with a chameleon like persona that lets him fit in any crowd.  McReynolds (Tyler Hoechlin) is the handsome All-American who doesn't have time for petulant little froshes.  Dale (J. Quinton Johnson) is a dance machine.  Even Jake's roommate Bueter (Will Brittain) is an affable, if slightly conservative redneck.
The point is the group is a diverse but fun group of weirdos, perfectly set in the world of a Linklater hangout movie.  What's incredible is there are no less than a dozen principal characters who all have more personality and humanity than one person in Batman v Superman: Oh Just Please Kill Me Already.  And that's the thing about Linklater's movies, no matter how passable they seem, they are always slowly uncovering a larger truth.  His insight is almost always masculine but never obvious.  Here amongst the debauchery he is slowly speaking truth to power.  These boys are all handsome, all athletic, with the world in front of them – and as much as that world scares them they'll happily rebel for the time being.
To blind themselves from the abyss that is adult life they embark on an exhausting 3-day quest filled with easily as much beer as a similar quest I took in my early-20's.  It's all at once a hysterical fantasy and immediately relatable.  It's what made Dazed and Confused a timeless classic and it may do the same for Everybody Wants Some!!  It's a film where almost nothing happens yet everything is happening.  It's something these baseball playing goofballs communicate with ease.  The ability to stare the future in the face and say fuck it, life is pretty good right now.
Rating:

Everybody Wants Some!! Opens Tomorrow in Theaters Everywhere