Spike Jonze is Hollywood's most wonderful enigma.  He hasn't made a feature film in 4-years (the ethereal Where the Wild Things Are) but continues to actively work in short form and the occasional cameo (look for him in The Wolf of Wall Street.)  His odd journey continues with Her – which may be his most accomplished work yet.
Her follows Theodore (Joaquin Phoenix) through a post-modern Los Angeles.  Things have changed in the near future…but not as dramatically as you would think.  Technology is slightly more ingrained, video games slightly more immersive and the streets a little cleaner.  Theodore is a writer, but not in the traditional sense.  He dictates other people's romantic thoughts for a website called handwrittenletters.com.  His letters are beautiful, often melancholy streams of conscience.  It's a slightly depressing existence considering Theodore's recent divorce has left him alone with other people's thoughts and raw emotions.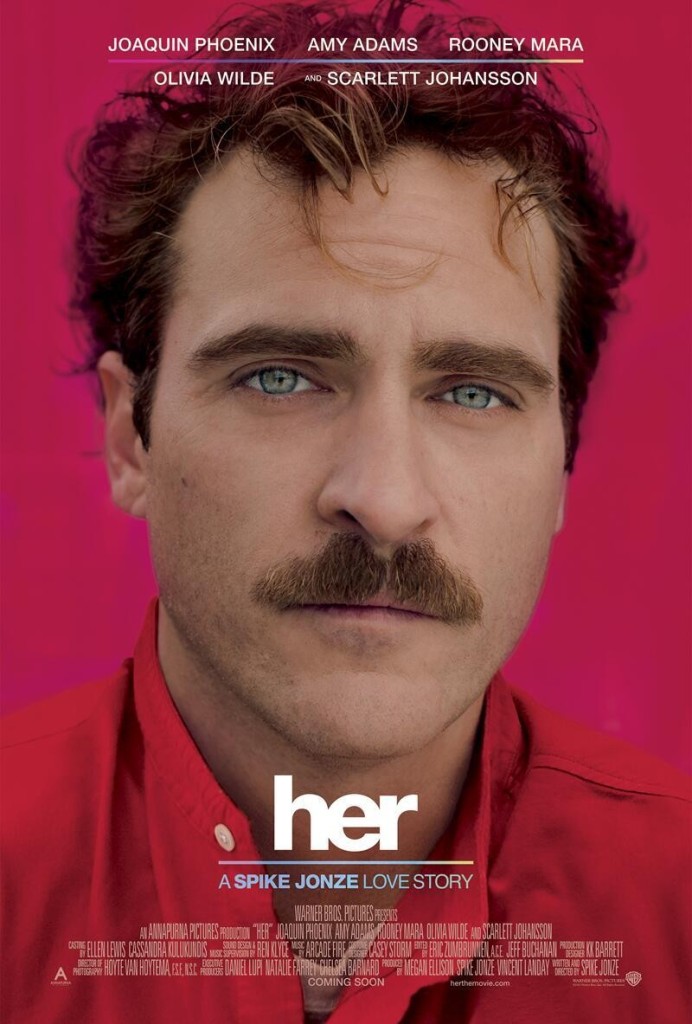 As the days drag on an unnamed company releases a product simply known as OS1.  Theodore – being an "early adopter type" – jumps at the chance to try the new tech.  What's unique about OS1 is its innate ability to evolve and connect.  Oh, it's also named Samantha and has the sweet, smoky voice of Scarlett Johannson.  Samantha does everything from organizing emails and calendars to reading entire volumes of encyclopedias in seconds.  She can also carry on intimate conversations with Theodore, helping him move through and cope with the past and present.
It feels, almost immediately, like a human relationship.  Samantha can do nearly everything (except, you know, physically exist) and follows Theodore everywhere (he wears a small camera in his breast pocket and an ear piece for conversation.)  It doesn't take long for Samantha to wear down Theodore's defenses and romance ensues.
What Jonze is acutely aware of is personal, human relationships.  Samantha and Theodore seem no different together than Theodore and his next door neighbor and longtime friend Amy (Amy Adams.)  It's monumental – not only from a screenwriting perspective – but from an acting perspective that Phoenix can pull this off.  For long stretches he is the only person on screen, moving about the landscape talking to the beautiful voice in his head.  There is never any artifice, even as Theodore lies on a beach listening to a piano piece that Samantha has written to reflect the moment.  Normal hack directors would've laid on the schmaltz but Jonze never reaches for "the moment."  He lets it happen, just as it should.
Many have written that Her is an obvious parable about our growing dependence on technology and that is true.  It's also about disconnecting and forging relationships.  But I think it also embraces innovation.  It's through Theodore's "false" relationship with Samantha that he's reconnected with the outside world.  He's spent over a year waiting…wondering if he could mend his relationship with his estranged wife Catherine (Rooney Mara.)  Without that literal new connection with technology its possible Theodore never fully recovers from that depressing cycle.
Maybe we won't have earpieces running our lives in a decade.  Maybe the next Xbox won't actively talk back when we ask it to go left instead of right.  But Jonze gives us a vision of the future where it may be possible to have our cake and eat it too.  His vision is grounded, more of-this-time than other postmodern worlds.  It's possible his unorthodox romance gives us a glimpse of what could be; a cautionary tale of humanity and technology coming together even as it threatens to tear us apart.
Rating: