Following the 2012 barrage of Chronicle, The Avengers, The Dark Knight Rises, The Amazing Spiderman, Dredd, Ghost Rider and Lincoln it's safe to say superhero fatigue was in full effect.  It's a genre that follows the same template, reaches for the same symbolism and yields markedly similar results across franchises.  So after a banner year for spandex and capes what does Hollywood do?  Make 10-more superhero movies of course!  Thank goodness Marvel Studios handed the reins of the Iron Man franchise to savvy screen veteran Shane Black.  The results are remarkable leaving me to ponder whether this whole superhero thing does have something left in the tank.  Or maybe I just like Robert Downey Jr.
Iron Man 3 certainly isn't original but it is inspired.  Tony Stark (Downey Jr.) returns, secluded in his Malibu monolith tinkering on his many suits.  The aftermath of The Avengers has left Mr. Stark with a serious case of post-traumatic anxiety (presumably haunted by so much CGI.)  He rarely leaves, not even to check on his beautiful girlfriend Pepper Potts (Gwyneth Paltrow) as she runs the Stark Enterprises empire.  The setup is ominous and slightly clumsy as Black only rarely refers to the incident in New York while attempting to distance this story from the world of The Avengers.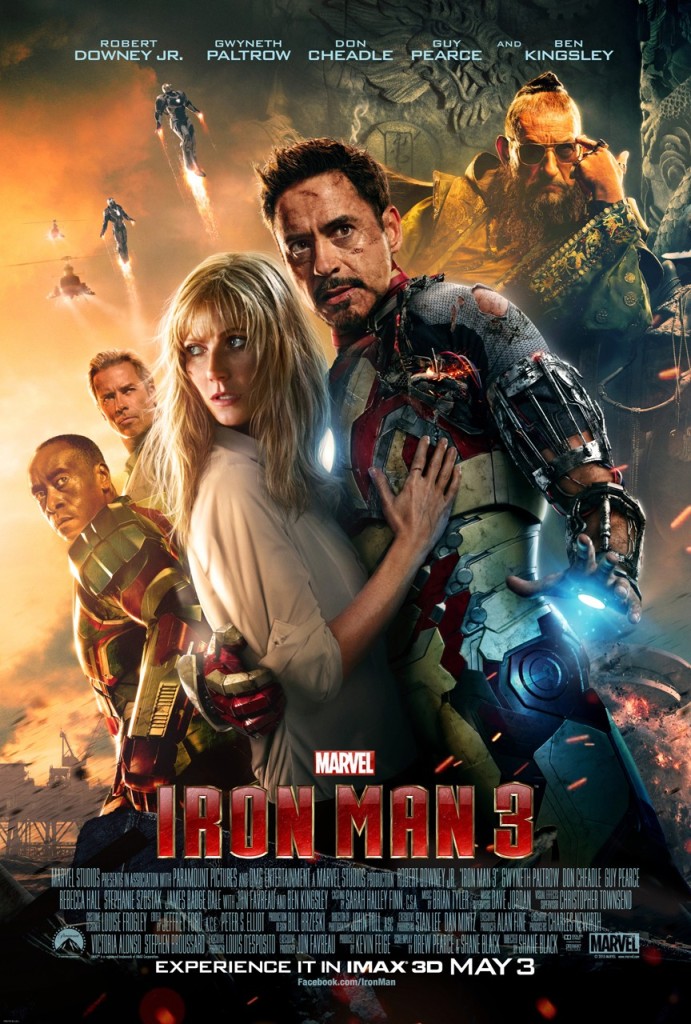 Clumsy setup aside, the approach actually works later to the plots benefit.  By distancing the film from last summer's blockbuster he allows the story to breathe, giving us a much more introspective look into Tony Stark's psyche.  His adversary here is also not a space monster…which helps.  A mysterious terrorist only known as the Mandarin (Ben Kingsley) is detonating massive bombs around the world.  The bombs, however, explode at extreme temperatures, leaving only traces of its victims and no shrapnel.  Given recent real world circumstances the angle on Kingsley's menacing Mandarin is much more immediate and scary.  For the sake of twists and turns I won't reveal much more but suffice it to say this story is dense.
Black's direction takes Stark out of the Iron Man suit for lengthy stretches which is what ultimately kept The Avengers from being truly great. Downey Jr's performance as Stark is now transcendent in modern pop culture so to allow him to flex that snark was fun to see.  Black also understands what makes Downey great (having directed him in Kiss Kiss, Bang Bang) and lets the riffs come fast and furious.  The most hysterical section comes when Tony finds himself in the company of a small tween boy named Harley (Ty Simpkins) in rural Tennessee.  Their interaction props up the middle of the 2.5 hour epic and never lets the momentum sag.  And kudos to Simpkins for being the rare child actor who can really bring it.  His performance is star making.
That doesn't mean the action doesn't come.  When it does, it's awe-inspiring.  The CGI-laden scenes are so coherent and nicely framed it was shocking dgfev online casino at times – seeing a Michael Bay joint a week prior usually elicits that response.  One particular scene (that you will hear a lot about) involves Air Force One and a lot of terrified government employees falling helplessly to their demise.  What ensues is a sequence that will be remembered fondly in the pantheon of superhero rescues.  It's so good it begs to be seen on IMAX.
The actors framing this madness are universally wonderful.  Downey could play this role in his sleep but still manages to give us sides of Tony Stark not explored in previous chapters.  Guy Pearce (woohoo!) appears as an old acquaintance of Stark's who approaches Pepper with an odd new venture.  Pearce is my favorite working actor – he oozes smarmy excess when given the right material and here really shines as a ghost from the past.  Even Paltrow is given some actual things to do and it seems the Downey charm has rubbed off on her enough that she's not even grating.
Shane Black – kudos to you.  The film has its faults (how would no one know where Tony Stark lives and Don Cheadle is criminally underused) but the charm and wit infused by your writing and direction gave Iron Man the worthy sendoff he deserves.  You took The Avengers template and stripped away the excess giving us a movie that's tighter, funnier and flat out better.  Hopefully we'll see more from you very soon – Lethal Weapon 5 perhaps?
Rating: