I suppose even still; Greek mythology is ripe for modern translation.  Every few years we get earnest sword and sandal tales like Troy that attempt to tell a very literal version of the legends we all learned in grade school.  But most often the best telling of these tales come from a modern setting.  The mythology is ripe with symbolism that, when applied correctly, can be a Redditor's goldmine.  Enter Yorgos Lanthimos' The Killing of a Sacred Deer to happily (with the most terrifying grin) fill that void.
Lanthimos – hailing from Athens, Greece – made his first massive splash in America with the acerbic, arthouse Dogtooth in 2009, a film that announced his talent and lack of boundaries like a bullhorn in a library.  He achieved mainstream notoriety in 2015's The Lobster – a melancholy (yet often hysterical) meditation on love and loss starring Colin Farrell and Rachel Weisz.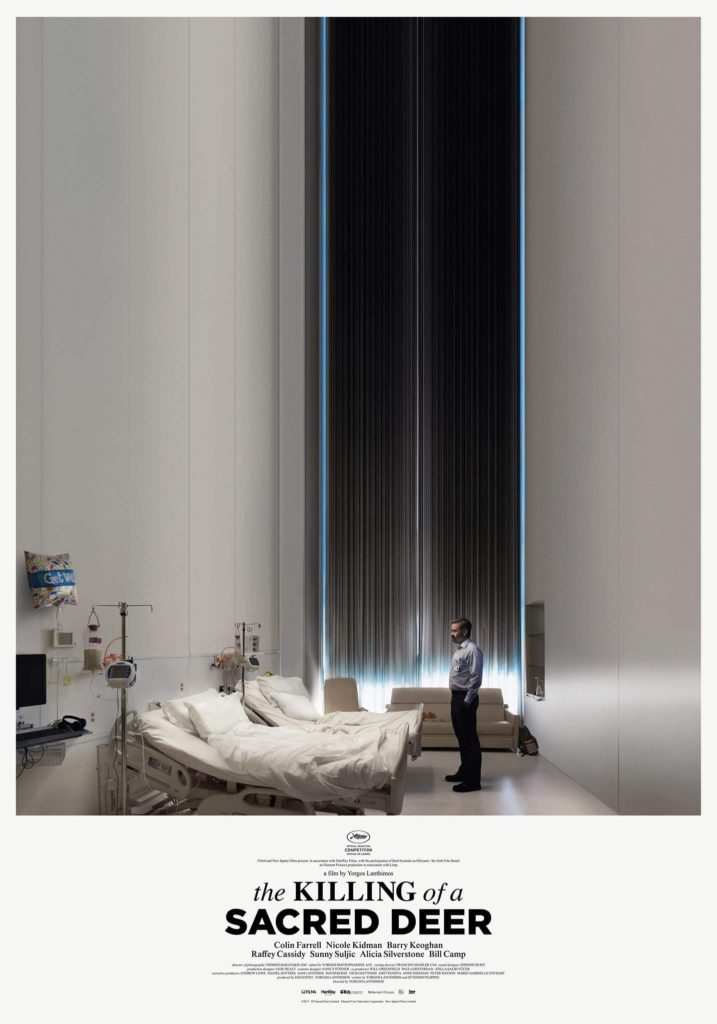 Here he has Farrell in slightly different circumstances.  He plays surgeon Steven Murphy – a wealthy, somewhat unpleasant man with some weird bedroom rituals.  Murphy has an odd but seemingly harmless relationship with a neighborhood boy named Martin (Barry Keoghan.)  They meet innocuously a few times as Martin – in his very bizarre way – takes an interest in Steven's work at the hospital.
Murphy's home life seems more or less hunky dory.  He's married to beautiful psychologist Anna (Nicole Kidman) and has two children, Kim (Raffey Cassidy) and the younger Bob (Sunny Suljic.)  Their conversations are typical if not a tad bizarre given the tone of menace Lanthimos coats nearly every scene with.
You see, Martin has taken a liking to Steven because Steven operated on his father a few months previous and he didn't make it.  Martin believes this is Steven's fault and the only way to make it right is to sacrifice one of his family members or they will all slowly suffer and die – an eye for an eye…so to speak.
Lanthimos has taken the myth of Iphigenia and given us a twisted modernization.  Instead of the petty squabbles of the Gods leading to a "godly" sacrifice we suffer through the painful deterioration of the Murphy family as Steven struggles with his decision while his family crumbles around him all the while Martin circles like a shark near blood.
The entire enterprise is lavishly made with expert performances throughout.  Farrell (and his incredible beard) have never been better.  He and Kidman's deadpan relationship is funny, terrifying and oddly compelling while Cassidy and Suljic give plenty of depth and nuance to their tween roles.  But it's the menace of Barry Keoghan (last seen with a rough head injury in Dunkirk) that makes this tick.  His Martin is bizarre, endearing and completely unrelatable.  He seems to be on the spectrum while also using it as a put on to get close to those he wants to destroy, it's a remarkable performance.
For all of Lanthimos' wit and dry humor (this film's laughs are more uncomfortable than an extended family Thanksgiving) though I still hesitate to recommend The Killing of a Sacred Deer.  While he seems to be commenting on the destructive nature of white, male privilege (no shit, turn on the news) he doesn't have anything particularly compelling to say about it.  Instead I was left in awe by a stunningly lavish production that had me exhausted and cold.
Rating: