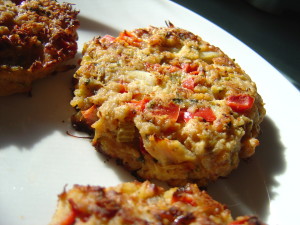 And crab cakes love this lady. So much that they made a presence in four meals for four consecutive days until the four pounds of crab meat vanished. And this lady hates leftovers, like, with fervor. Often soggy, lackluster and overcooked when forced to re-heat, leftovers are usually a recipe for disaster. Culinary pun!
I grew up spending my summers on the Hood Canal of Washington"s Olympic Peninsula (no, not the part of the peninsula where "Twilight" was filmed), in between two major shellfish harvesting towns of Hoodsport and Shelton. We would take our now antique Bayliner Cruiser out for serious business, dropping three to four crab pots at a time throughout different "secret spots" within the canal. The legal restrictions on how many crabs you can take in a day varies with your moral compass, so we would typically come home with enough to feed our small clan of 10-16 people.
Part of the process, like with any living organism you eat, was killing the crabs. My grandmother was a bad-ass in this realm, slamming the inside shell (and essential life-pumping organs) against the railing of a large marina sink, removing the edible bits (legs, pinchers and connective tissue meat) while leaving the guts in the rectangular shell for us kids to use as marina fish bait and/or to gross each other out with.
Back at the ranch (also known as our 1970s retro cliff-side cabin), my duty was picking. You use your hands, you use a small shell-cracker and you use one of the smaller leg pointer claws as a pick—that is the only right way to pick the meat out of a crab, let no one tell you different. You are allowed to eat a few bites along the way but know that anything you indulge on while you"re working will be held against you in a court of your hungry family members.
Case and point is that no crab goes to waste in my family, nor in my adulthood home. Leftovers are not an option, especially when you adapt/collaborate recipes from two of your favorite lady chefs, the Barefoot Contessa herself, Ina Garten, and Seattle"s southern sweetheart, Lisa Dupar. Stand these cakes next to a white Burgundy (French Chardonnay) and you have done your grandmother, the Bayliner and these chefs a justice.
Eating: Crab cakes to feed the masses or yourself for four meals (recipe built for 4, 2 servings each)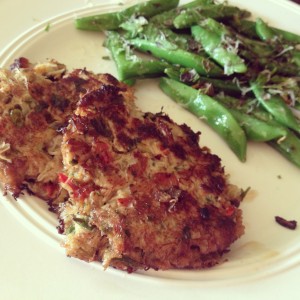 4 tablespoons salted (always) butter
4 tablespoons olive oil
1 cup diced celery
1/2 cup red bell pepper
1/2 cup poblano pepper
1/4 cup cilantro
5-6 dashes of Tabasco
1/2 teaspoon Worcestershire sauce
1 1/2 teaspoons Old Bay Seasoning (McCormick"s product, mainstay for famous Baltimore-style crab cakes)
Salt & pepper (eyeball it considering your sodium intake/liking)
2-3 pounds of crab meat (two crabs worth, picked dry)
2-3 garlic cloves, minced
3/4 cup green onion
1 cup of dried bread crumbs (2 slices toasted, then chopped in a food processor)
1/2 cup mayonnaise
2 teaspoons Dijon mustard
2 large eggs, lightly beaten
This sound rigorous and exhaustive but it"s really just a solid amount of ingredients that you cut into two, dividing and concurring. Toss half of the butter and olive oil into a large sauté pan over medium-low heat and add in the next eight ingredients (including salt and pepper). Simmer for 10-15 minutes until the peppers are soft, put on a plate to bring down to room temp. In a large bowl, toss the crab meat and online casino's the remaining ingredients until they are combined and well mixed. Once you"re there, add in the cooked mixture to the large bowl, mixing well and covering to refrigerate for 30 minutes (or more, you can make the night before cooking as well).

Preheat your oven to 250 degrees. While you are re-heating the large sauté pan to a medium heat, add the remaining butter and olive oil. Shape the crab cakes into your desired size (I go for a little bit smaller than your fist on the diameter, about 1/2-1 inch in thickness) and plop those suckers on the fryer. Brown each side, 3-4 minutes, depending on what you think brown is. Remove and drain on a cooling rack, then put on a baking sheet to stay warm (and crisp a bit) in the oven.
And voila! Best. F"ing. Crab cakes. Ever. EVER!
Drinking: Joseph Drouhin 2010 Chassagne-Montrachet, Cote de Beaune, Burgundy
It"s French for Chardonnay! But isn"t Chardonnay French anyway? So Chassagne-Montrachet is a village in the Cote de Beaune sub-region of Burgundy, the motherland of Chardonnay and the motherload for fantastic French whites. This wine is a region, within a region, within THE region, which means the wine is very specific, very complex and very beautiful. The soils in C-M are light, tossed with limestone, clay, gravel and more, grown on slight slopes with good sun exposure but not overwhelming in ripeness. That results in a rich and intricate wine, both bold and delicate, classic for the rich and intricate, bold and delicate shellfish that is crab.
Specs: In terms of Chardonnay, this wine has a short-lived life aging in barrel—only 12 months and in only 25 percent new oak. This means no butter, no vanilla, no dill aromas and flavors. Just pure, pretty Chardonnay. This wine is generous with luxurious aromas of baking spices, hazelnut, brioche, Meyer lemon preserves and an easy floral undertone. The palate is bodacious in a lavish texture that is sultry along the mid-palate and finishes with vibrant mineral-driven acidity.
Together, the pairing is an adamant show-stopper. Together, this bill of fare ain"t cheap but well worth the money spent. Especially when you can eat it for four days.