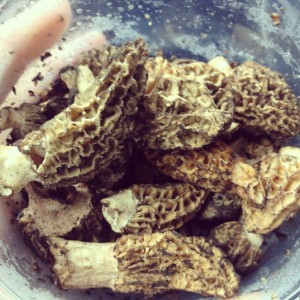 I'm a light sleeper. My fiancé snores in an unrequited slumber on a nocturnal basis, so when my phone rang the other night at 11:30 pm, I bolted at the sound of something new. Clearing the call, I texted my friend on the other end asking if there was an emergency because why else would it be necessary to call at this ungodly hour (I'm also an ornery sleeper).
"I have morels for you," she wrote back. Certainly worth the alarm—morel mushrooms bring me to my happy place. The earthy, stocking-hat resembling, fire-loving fungi wrap the flavors of my homeland up in one creepy little cap.
Only morels can pull off manly—cooks don't forage for these mushrooms, they "hunt" them. In the craggy ranges of Washington state, morels are found in mountainous forests from the floor to the swamp sites. The higher the elevation, typically the more the mushrooms. 2012 hosted quite a few wildfires in these areas, which for some ecological and agricultural reason, prompts morels to want to "reproduce" and grow more by spreading its spores.
Sounds boorish, yes, mushroom procreation and all can't be too attractive but the results can be delicious. Unfortunately, flavor has its price and the tag on morel mushrooms ain't cheap. I saw them "on advertisement" yesterday at PCC for $28.99 a pound. My friend generously offered up about two ounces to me (which was about two handfuls), saving me ten bucks and an evening of pure joy. I tapped into an old Bon Appetit recipe and revised to my fat kid standards.
Eating: 2 ounces or 2 handfuls of fresh morel mushrooms (on a recipe built for two)
1 package of Cucina Fresca fresh linguine pasta
Half of a red onion, chopped
1/3 cup of red wine (I had Chianti laying around, anything on the drier/tannic side will work)
3/4+ cup heavy whipping cream
2 links of Cascioppo Bros Italian pork sausage
2 tablespoons fresh sage, chopped
Olive oil, salt and pepper
Parmesan cheese
One thing is key here: fresh, both the morels and the pasta should be as far from dried as they can be for ultimate flavor from the mushrooms and for saturation of the sauce with the pasta.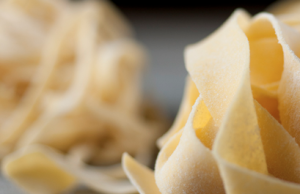 Peal the sausage out of the casing and into a large skillet, chopping the meat up as it cooks for 5-6 minutes. Remove cooked sausage and put to the side. Splash a tablespoon or so of olive oil into the skillet and cook the red onions down for about 5 minutes, adding in the red wine to burn off the alcohol and cook the flavor into the onions for another minute. Add in a bit more olive oil to your liking, toss in morels, sausage and sage and mix in. Start with 3/4 cup of the whipping cream into the onion mixture and add more as it thickens, depending on your desired richness and texture, around 7 minutes. Salt and pepper to a similar degree. Boil the pasta for around 2 minutes and strain into the cream sauce. Toss and plate from there. Grate Parmesan cheese on top.
Drinking: If you ask me, morels should be the hero of the dish when cooking with the mushroom. Their flavor profile is so unique and texture so compelling that you want to bring your surrounding components of a meal to only shine the light brighter on the shroom. You want a delicate wine that will enhance the flavors of the mushroom, but also contrast the richness of the cream otherwise it'll be almost too lavish to hold down.
If you're eating local, you might as well drink local. Yakima Valley's Chinook Wines is comprised of wife and husband team Kay Simon and Clay Mackey—Kay making the wines and Clay teaming up to help with everything else. Kay was one of the first female winemakers in the state and one of only two in her graduating class at University of Davis' enology program in the late 1970's. Her wines are humble, true to the land they come from and approachable. The warm Yakima days and cooler evening produce balanced wines in both ripe fruit and acidity.
The Specs: Chinook's 2011 Sauvignon Blanc is everything a heavy, cream dish needs—crisp, bright fruit and plenty of acid to break up the pools of opulence. Floral and earthy, the wine bodes well with the morels without overpowering their texture. All about the morels.