Rush is a damn good sports movie.  In fact, it's easily the best sports movie since Friday Night Lights nearly a decade ago.  That's quite a void, luckily Ron Howard's latest (and possibly best) film is an adrenaline filled 2-hours that eclipses every car racing film ever…no I'm not counting Fast & Furious (nothing eclipses the Diesel.)
Unfortunately for sports fans the movie pantry has been fairly bare for the better part of 20-years.  We are long past the days of Hoosiers and Bad News Bears and have had to endure some major clunkers of late (42, The Blind Side to name a couple.)  Rush represents more than a return to form for the genre, it captures what makes the genre great…warts and all.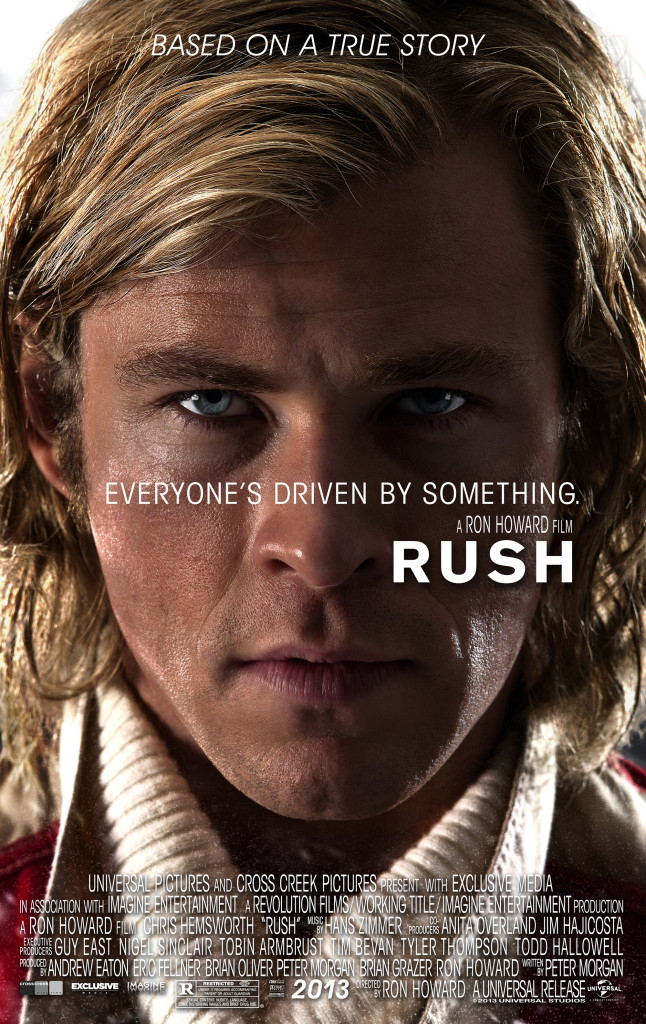 James Hunt (Chris Hemsworth) is an up-and-coming Formula 3 driver.  He's brash, drunk, dashing, womanizing and an ace on the track.  His talent is his complete lack of inhibition.  He fears death but welcomes the opportunity to face it.  It's this fearlessness that attracts a bevy of gorgeous woman and one that wins him races.
One mid-summer race day in the early 1970's Hunt encounters a rare foe.  This particular adversary is just as fast as Hunt but lacks the panache to cross the finish line first.  It's a push that he hasn't felt from an opponent in some time.  The man I'm speaking of is Niki Lauda (Daniel Bruhl.)  From the jump we gather Lauda is certainly Hunt's opposite: a very stoic, very calculating, very German opponent.  Lauda believes each race carries a 20% chance of death, something he is acutely aware of each time he approaches the track.  He scoffs (but also quietly admires) Hunt's complete lack of awareness that death looms large in Formula One racing.
The men develop a rivalry that reaches the highest level.  It's 1976, a year after Lauda won his first world championship and signed with Ferrari and Hunt is fast approaching his level.  They battle week-to-week on one gorgeous track to another.  The racing is thrilling.  Howard gets his camera onto the track, following these roaring machines in and out of the tightest hairpin turns.  Often his camera will move into the engine and out the exhaust as the engines rev at the starting line.  It's vivid stuff that gives the film a propulsive momentum that rarely lets up.
It's not all fun between these two.  After a very public confrontation over the safety of a track Lauda suffers a horrific crash.  The majority of his body is burned as he spends nearly a minute inside his fire-engulfed car.  As he rehabs, Hunt begins to catch him in the point totals.  The rehab must've been arduous because it's disturbing to watch.  Lauda's single-minded drive to get back on the track is a blessing but certainly a curse.
We see glimpses of Hunt and Lauda off the track and this is when the movie suffers slightly.  The plight of a sports movie with a narrow focus is many of the ancillary characters get short shrift.  Here is no different.  We see Lauda woo his wife while driving her car through the Italian country side.  It's a wonderful scene that the film could've used more of.  Hunt's personal life is much more manufactured as he marries a famous super model (Olivia Wilde) to appease sponsors and proceeds to drink and ignore his way to an ugly divorce.  The films run time simply doesn't give these elements enough breathing room to resonate as we're left waiting for the next on-track confrontation.
Ron Howard is not my favorite director.  Lately he's made mostly silly, crowd-pleasing spectacles (The Da Vinci Code, Angels & Demons) and blatant prestige picks (A Beautiful Mind, Frost/Nixon) which are mostly pleasant and mindless.  Rush is easily his most accomplished work.  For all the film's faults (which I mostly chalk up to basic sports movie clichés) he never loses sight of the central conflict.  He lets the two fantastic lead performances carry it which is a testament to the chops of Hemsworth and Bruhl.  I guarantee you will switch allegiances multiple times throughout the film, never sure who you should be rooting for.  In the end you may just be rooting for their survival.
The rivalry between these men was one of anger but also mutual admiration.  They needed each other to be great.  It's like Magic and Bird or Brady and Manning, these great athletes need a measuring stick to pursue that always elusive tag of "the best."  It's what makes sports great, it's what makes Rush a great sports movie and easily one of the best I've seen this year.
Rating: