First of all, Snatched is a completely harmless, forgettable comedy that will have a long life on cable. It nabs a laugh here and there mostly on the backs of the very capable cast, but it's little more than that. What's incredible is Amy Schumer somehow got Goldie Hawn to come out of retirement. The Oscar-winning actress hasn't worked since 2002's The Banger Sisters and, although she's underused here, I hope she continues. Hawn has the comedic chops she's always had and can act circles around Schumer and the goons littering this film. So, if Snatched accomplishes anything I hope it's introducing an entire generation to the brilliance that is Goldie.
Schumer plays Emily – a go-nowhere retail employee, who, after being dumped by her boyfriend she's left with two nonrefundable tickets to Ecuador and a whole load of girlfriends that want nothing to do with her. As usual she falls back on her mother Linda (Hawn) who lives with her two cats and shut-in son Jeffrey (Ike Barinholtz) in her upstate New York home. Linda is a self-diagnosed agoraphobic (she does go to the Y twice a week for exercise) that barely opens the blinds each day. After an awkward family dinner Emily gets the bright idea to take her Mom to South America – after a little coaxing of course.
What follows is a classic fish-out-of-water/roadtrip film. After Emily gets hammered and meets a handsome world traveler, Linda accompanies the two on a roadtrip through the Ecuadorian countryside. While returning home, the group is ambushed and kidnapped by vicious gangsters who plan to ransom Jeffrey back home for $100,000.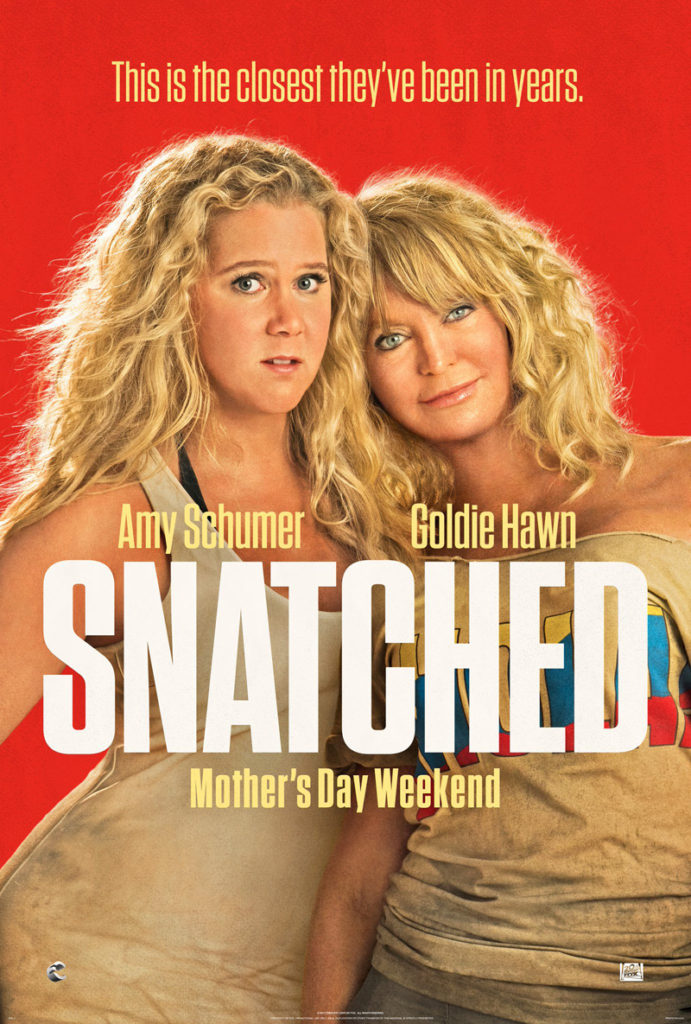 Throughout the tight 90-minute film Director Jonathan Levine introduces wacky side characters and scenarios, some that land better than others. The duo of Wanda Sykes and Joan Cusack introduce themselves early as platonic travel partners who are suspicious of everyone and very highly trained (Cusack's character was Special Ops and cut out her tongue to avoid interrogation.) They are a hysterical couple that provide some great physical comedy throughout. Christopher Meloni also takes a break from Law & Order to provide some terrible advice to the ladies about how to navigate the Amazon.
Levine too finds a few moments for Schumer and Hawn to riff off each other – playing to Schumer's strengths and Hawn's incredible comedic timing (a great gross-out gag involving a tapeworm is a highlight.)
Ultimately Snatched is a pretty lazy summer comedy that finds a few gems amid a cookie cutter Hollywood plot. Schumer and Hawn are great and after I did wish they had better material to work with but the silver lining is that Hawn is there at all. I do hope she continues to work because she is radiant and hilarious and immensely talented.
Rating: