Every two years we are blessed with a new Fast & Furious movie (you're welcome America) and each time I still marvel at the miracle of it all.  A franchise that started with little fanfare in 2001 and was left for dead after its third time around the track in Tokyo in 2006 has somehow become one of the largest franchises in the history of cinema.  We are on #8 for god's sake – The Fate of the Furious (easily the worst, laziest name yet) – with two more sequels already promised! Vin Diesel is 49, doughy and apparently hated by most his cast mates.  But hey, if you're going to open to an estimated $280 million worldwide on opening weekend – you'll put up with pretty much anything.
Furious 7 ended on a somber note – as Paul Walker died during the filming.  The film did an admirable job paying tribute to the late actor but the entire event left an air of finality over the franchise.  But of course Universal wasn't going to let a cash cow like this go so here we are with Fast 8 – Still Drivin'.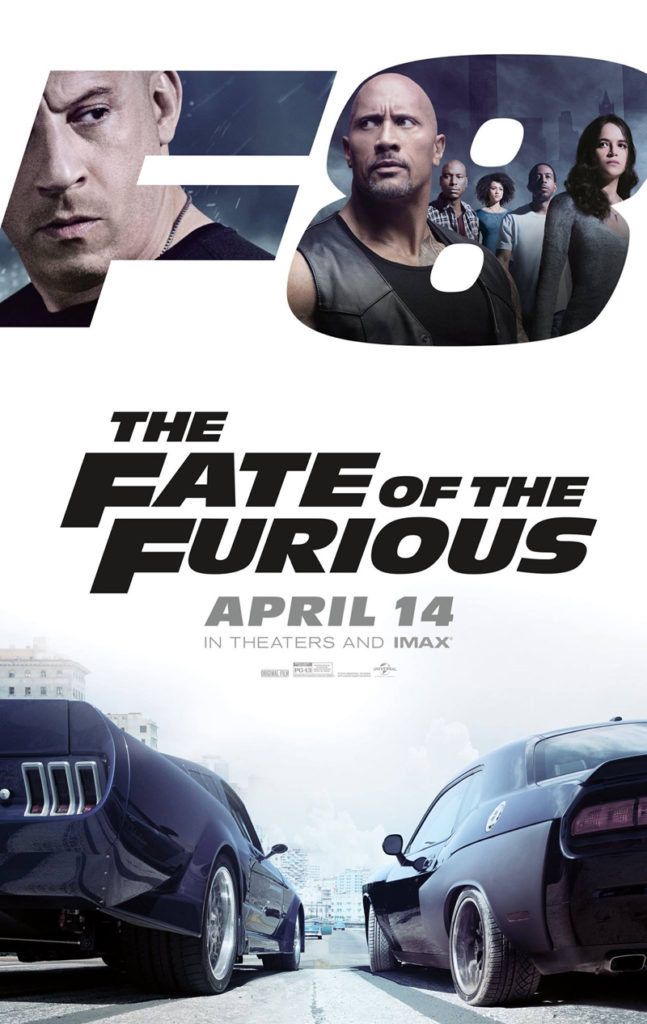 F8 is heavily plotted and completely ridiculous – in many ways exactly what we've come to expect.  Dom (Vin Diesel – who, in a HILARIOUS on-screen dossier is listed as 40, 6'1" and 215 lbs…yah, ok) and his wife Letty (Michelle Rodriguez) are on their honeymoon in Havana, Cuba.  The film begins with a classic FF scene – a car show with scantily clad women, loud music and testosterone overload that leads to an inevitable street race (one of three set pieces I absolutely loved.)  It's exactly the kind of gorgeous setting that have marked the high points of the franchise and made it oddly unique on the blockbuster landscape.
Alas, there is trouble in paradise when Cipher (Charlize Theron) shows up to convince Dom to abandon his wife and "family" after she shows him something on an iPhone and close-talk/whispers ominous things about "choice theory" and "having feelings."  Theron is so world-class she elevates this idiotic material all the while chewing on the scenery with reckless abandon.  She's an absolute rock star at 41 (don't believe me, watch this.)
Soon, Hobbs (The Rock,) Roman (Tyreese Gibson,) Tej (Ludacris) and Ramsey (Nathalie Emmanuel) are joining Letty to get to the bottom of Dom's betrayal – all with the help of shadow government guy Kurt Russell.  Hell, this is a Furious movie so they even figured out how to quickly redeem and add Deckard (Jason Statham) to the crew (who – if I'm not mistaken, murdered one or two of the crew's best friends in a past film, meh whatever.)
As the family galivants around the globe chasing Dom, Cipher and her lackeys we're treated to no less than 5-major action scenes – the true staple of an FF movie.  Everyone are competently made – even with a new Director F. Gary Gray taking over for Justin Lin – but three stand out.  Apart from the opening 15 minutes Gray stages an absolutely thrilling chase through the heart of Manhattan that ends with potentially the most iconic image I've seen in a FF movie (a waterfall would be an apt metaphor.)  The final set piece involves Jason Statham, an airplane and a baby wearing headphones.  It's bravura stuff and a scene that reminds us why Statham is great and why the hell this guy can't get cast in better action movies is beyond me.
For all the good the traditional formula brings to F8, this is the first time it started to feel tired.  The plotting feels arbitrary and the banter – while sometimes inspired – is starting to show its age.  The WWE has produced several fantastically over-the-top action films in their history (please watch The Marine starring John Cena) but the Fast & Furious is soap opera wrestling incarnate.  It's bloodless action with beautiful women and hulking men crossing and double crossing each other (not to mention ACTUAL wrestlers in the film.)  It's simultaneously brilliant and punishingly dumb.  You'll be thrilled, laugh and cringe…not always for the right reasons.  F8 is the best the series has to offer and the worst…but don't worry, there will be two more.
Rating: