In 2005 Jeannette Walls released her memoir The Glass Castle.  To put it lightly, the book touched on a variety of personal stories from Walls slightly "non-traditional" upbringing.  And these stories aren't just unkempt anecdotes about Walls life on the road with her 3-siblings, mother and a father who's dreams massively outweighed his reach.  These stories were dark and upsetting, powerfully so.  It's a story of the redemptive human spirit and one that touched millions of readers.  It also lends itself to film in a perfect sense.  Walls story is tailor-made for Hollywood which unfortunately is the film's biggest curse.
The Wall's story begins in the late 1960's in the back of an old station wagon heading through California's Joshua Tree wilderness.  Young Jeannette (Chandler Head) is already questioning her father Rex's (Woody Harrelson) motives.  She's barely pushing 8-years old when she mentions that her friends think they should go to a real school.  She's recently burned her midsection on the stove boiling hot dogs and after a short stint in the hospital her family is off on their next adventure, packing up all their belongings and heading…somewhere.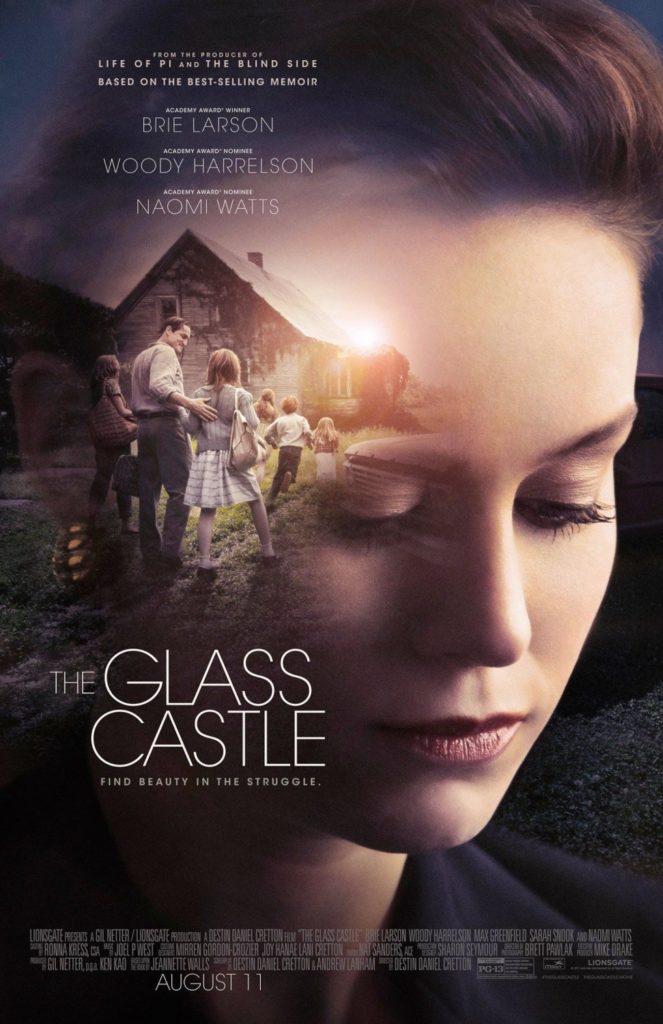 This vagabond nature is mostly self-inflicted.  Rex is a dreamer who believes his family deserves the best while he struggles to hold a job down for seemingly any time at all.  They rent beaten down homes, Rex drinks, Rose Mary (Naomi Watts,) his wife, makes excuses for him and turns a blind eye while the kids largely take care of themselves – rinse and repeat.
Director Destin Daniel Cretton (Short Term 12) chooses to cut these vignettes of the family with the story of Jeannette (Brie Larson) as a New York Magazine gossip columnist in the late-80's.  Here we see what she's become because of her adolescent punishment.  Adult Jeanette is successful and engaged to a Wall Street pushover called David (Max Greenfield.)  We learn that her parents have followed she and her siblings to the city and are squatting in an abandoned building on the lower Eastside.  She doesn't ignore them but now fully comprehends who they are and what they've become.
This narrative structure that Cretton has opted for I contend is the right one.  To use an actor with the sincerity of Larson to convey the breadth of experiences Jeanette has collected is a blessing in The Glass Castle.  Couple that with Harrelson's unhinged but warm performance as Rex and the remaining very capable cast, it should work.
Why it doesn't is a shame.  Cretton has so much to work with in the Wall family's nomadic journey and ultimate settling in the West Virginia woods near Rex's parents.  He attempts to wrestle with child and spousal abuse, predatory sexual encounters, alcoholism and much more.  But without ever sticking with a point of view beyond "these things are bad" everything comes off as a glance.  We see minor glimpses of these actions and they become tedious and repetitive instead of powerful.  With each instance a little bit of Rex's power is stripped away.
This should allow Rex to appear at the end as a person worthy of redemption but we're never given enough of that warmth for The Glass Castle to earn that moment.  Instead of coming off as the tear-jerking, ugly cry moment they are hoping for it ends up feeling grossly manipulative and a little too clean.  Tim Burton's Big Fish comes to mind as an exemplary example of damaging but redemptive paternal relationships.  Here, Jeanette Walls has a stunning and beautiful story to tell and it did not deserve the pho-Hollywood spit shine.
Rating:

The Glass Castle Opens in Theaters Everywhere Friday