Alicia Vikander and Michael Fassbender met on the set of The Light Between Oceans.  They are an upsettingly attractive couple.  They are two Oscar-nominated actors (Vikander is a winner) that are enjoying peak career moments.  So when writer/director Derek Cianfrance (Blue Valentine) decided to adapt a heart-wrenching book of a couple on the emotional brink it must have felt like fate for the pair.  What a romantic story in such an angelic setting.
The slight issue is The Light Between Oceans is an emotion-crushing bore that with lesser actors, would have debuted on the Oxygen network.  This is tear-jerk porn – designed explicitly for actors to cry in close-up, run through the wind in emotional distress; then shout, cringe…and collapse in despair.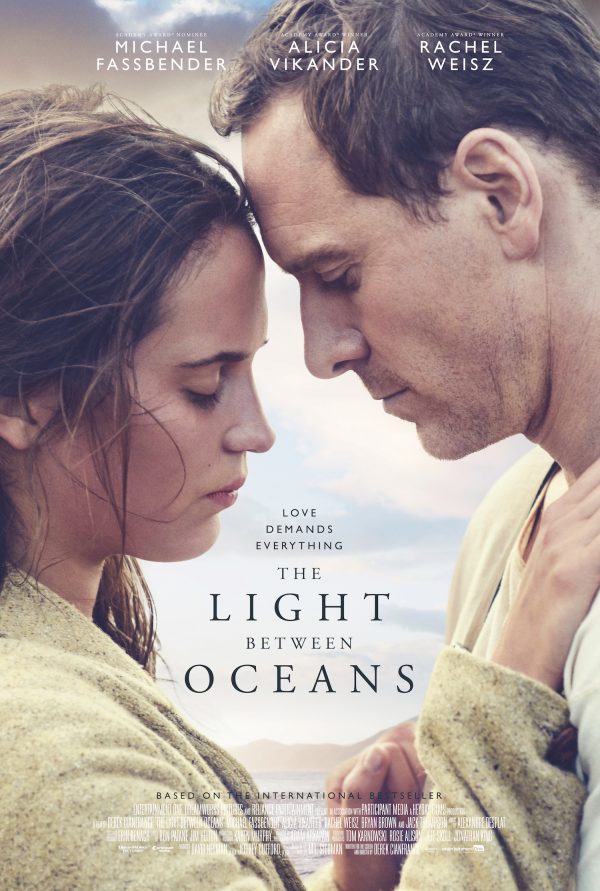 Fassbender plays Tom Sherbourne – a WWI veteran whose years of service have left him cold and removed.  He takes a remote job off the coast of Western Australia – as a lighthouse keeper.  The job opens after the man at the helm gets a raging case of cabin fever and hucks himself from a cliff, so it's not exactly a position for a people person.  After a short boat trip – Sherbourne spends his days tending to his tiny farm, exploring the remote island and curling up with the occasional book.  His evenings are spent in the lighthouse – as the keeper of the flame it's his job to never let it go out and log any and all activity at sea and on his tiny abode.
One afternoon after returning to the Commonwealth he meets a fetching woman called Isabel (Vikander.)  During a stuffy dinner with her family she invites him out for a picnic.  Their courtship is swift as the couple connect and begin to exchange letters across the sea.  If you love handwritten letters read out loud – holy shit you'll love this movie.  Fassbender and Vikander have beautiful speaking voices but after the 37th love letter I punched myself in the face.
After a quick marriage and a hell of a lot of talk of baby making Isabel is pregnant.  In a devastating turn she has not one but two miscarriages – separated by only two years.  In isolation in the 1920's this isn't something where a woman can seek support – in fact Isabel actively lobbies her husband for no support, doctor or otherwise.  As she slips into a deep depression, seemingly a miracle happens – a row boat washes ashore with a dead man and a healthy, crying baby girl.
Overjoyed by her luck Isabel convinces Tom to bury the body and claim the baby as their own – informing her family they were surprised it came so early.  They raise little Lucy (an adorable Florence Clery) on the island with love, compassion and a hefty moral quandary that Tom can't shake.  During a trip home for Lucy's christening Tom sees a woman singing to a gravestone.  As he approaches he realizes this woman is singing to her lost husband and daughter – lost at sea.
Late in The Light Between Oceans the character of Hannah Roennfeldt (Rachel Weisz) is introduced to really throw a wrench in the idyllic life of Tom and Isabel.  She's Lucy's real mother, but at this point though, it's too late.  Weisz is a massive presence in the film who is given very little to do but grieve and slowly grow suspicious.  It's a thankless role in a film that rides so heavily on her emotional reveal and it weighs down decently strong material earlier on.
And Cianfrance tries desperately to mask what slowly becomes a melodrama of coincidence with some of the most stunning cinematography you will see this year.  This should not be understated – the photography (directed by Adam Arkapaw) will surely receive an Oscar nomination along with the wonderful period details and costume design.  Even the palpable chemistry of the leads adds another layer of credibility.  The film looks and sometimes feels the part but it somehow manages to be soul-crushingly banal.
I liken the experience of The Light Between Oceans to being at a beautiful art museum.  You spot what looks like a gorgeous Monet at the end of the first exhibit.  As you focus your eyes and move across the room the brush strokes crystallize, but as you inch closer the weight of disappointment slumps your shoulders.  This is no Monet, it's a Thomas Kinkade.
Rating:

The Light Between Oceans Opens Tomorrow in Theaters Everywhere