Let's be honest – 2017 was a pretty shitty year on a global scale.  We all dealt with it in our own ways – lashing out on social media, listening to emo music on repeat, taking our dog on a walk that was just long enough that he started to get concerned – point is, we coped.  One silver lining, filmmakers seemed emboldened.  Not only did the quality of blockbuster peak for the first time in a decade but this awards season has been an avalanche of class pictures.
It started in early February with a certain now-classic by newcomer Jordan Peele and is rounding out with strong entries from legends Steven Spielberg and Paul Thomas Anderson.  We got weird films from new filmmakers and reassuring ones from our favorites.  It was my escape – once, twice, three times a week to sink into a theater chair somewhere in Seattle with a cavalcade of wonderful weirdos like me hoping we were seeing the next great film.
What a year it's been, and I hope the list below gives folks a place to start as we celebrate the sliver of good we could find in such a tsunami of anger that was 2017.
The Close Calls:
As I whittled down my list I quickly found about 25-films that could have easily made it.  So here are a few films that I truly admired but just missed my Top 10 (12):
Star Wars: The Last Jedi – In a year where the superhero movie was largely redeemed in my eyes of course we get the most thoughtful, interesting and well executed Star Wars film since the original trilogy.  I love that a large swath of fans were disappointed for truly idiotic reasons (I expected it to be one thing and it was a different thing – is my favorite) – that means it worked.
Baby Driver – Edgar Wright making a musical about a getaway driver? Sign me up for 12 sequels.  His uniquely idiosyncratic style suited the material perfectly and brought a furious energy that has almost made me forget that Kevin Spacey played a large part in it.  For me, Wright is still batting .1000 for his career and I cannot wait to see what he does next.
The Shape of Water – Guillermo Del Toro has only made a handful of films but for me, each has been an event.  The Shape of Water is truly the first film that has captured his beautiful cinematic gifts as sharply as Pan's Labyrinth did.  I found it moving and stunning with masterful performances, I hope people get to the theater to see it.
Three Billboards Outside Ebbing, Missouri – Frances McDormand already has an acting reel that would make most in the business envious.  But after seeing her performance as a devastated mother who's lost her daughter she could just put this on repeat for her remaining years.  It's virtuosic, combined with Martin McDonagh's sharp direction and dialogue it's a masterwork performance that will be studied for years.
And without further ado – in no particular order (except for my favorite film of the year) – my Top Ten (Twelve) of 2017:
My Top Ten (Twelve) of 2017:
Girls Trip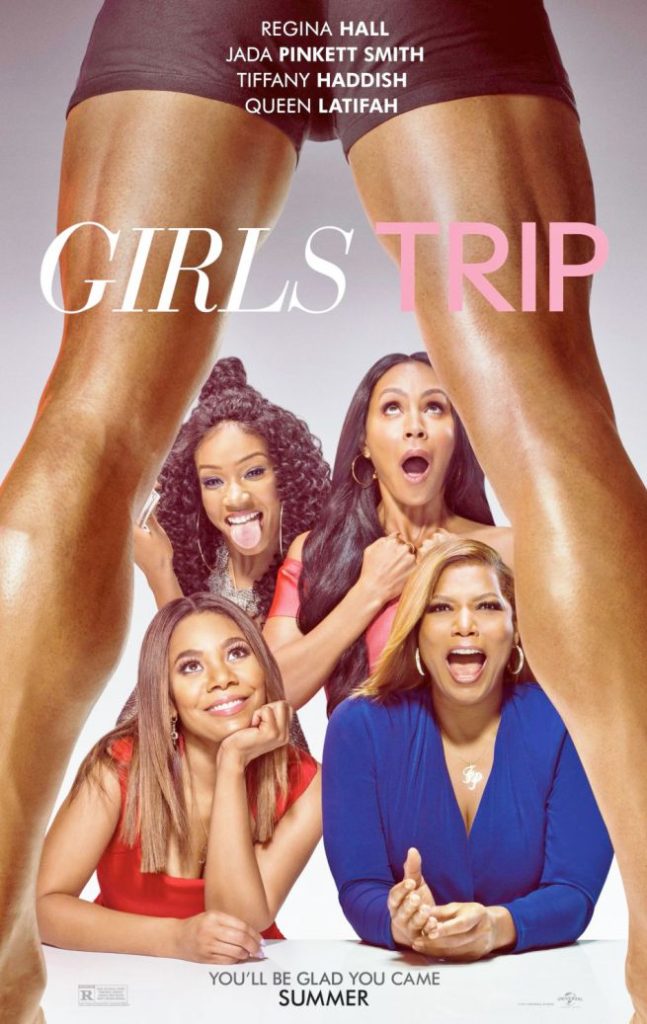 In the year of our lord 2017 I needed to laugh.  Since Hollywood has largely decided to ignore mid-budget comedies it was such a joy to see Girls Trip show up on the release slate.  Not only that, the film became a monster hit – raking in well over $100 million.  And you know what? It deserved every penny.  Not only did the film have a genuine warmth between the flossy possy but it was fucking hysterical.  I could watch Tiffany Haddish give profanity-laced tirades for 6-hours but I'll settle for 2-hours of debauchery on the streets of the Big Easy.
I, Tonya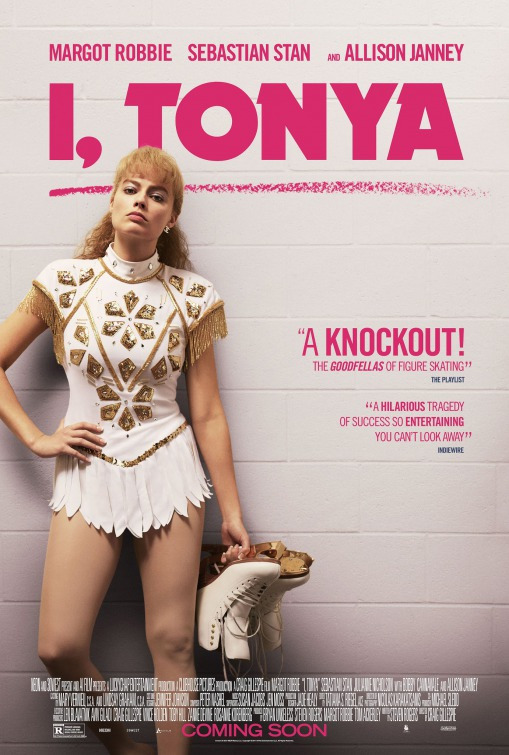 I'm not sure I had a ton of confidence that the behind the scene story of Tonya Harding – the tabloid darling who may or may not have ordered a hit on her chief rival Nancy Kerrigan before the Olympics – was the story we needed this year.  Oh, how happy I was to be wrong.  Margot Robbie turns in a career-defining performance as the titular figure skater whose ferocity on the ice is matched only by her foul mouth off it.  The film shares more with Goodfellas than it lead's on and while being very funny is a surprisingly sobering view of domestic violence.  What an incredible surprise.
Dunkirk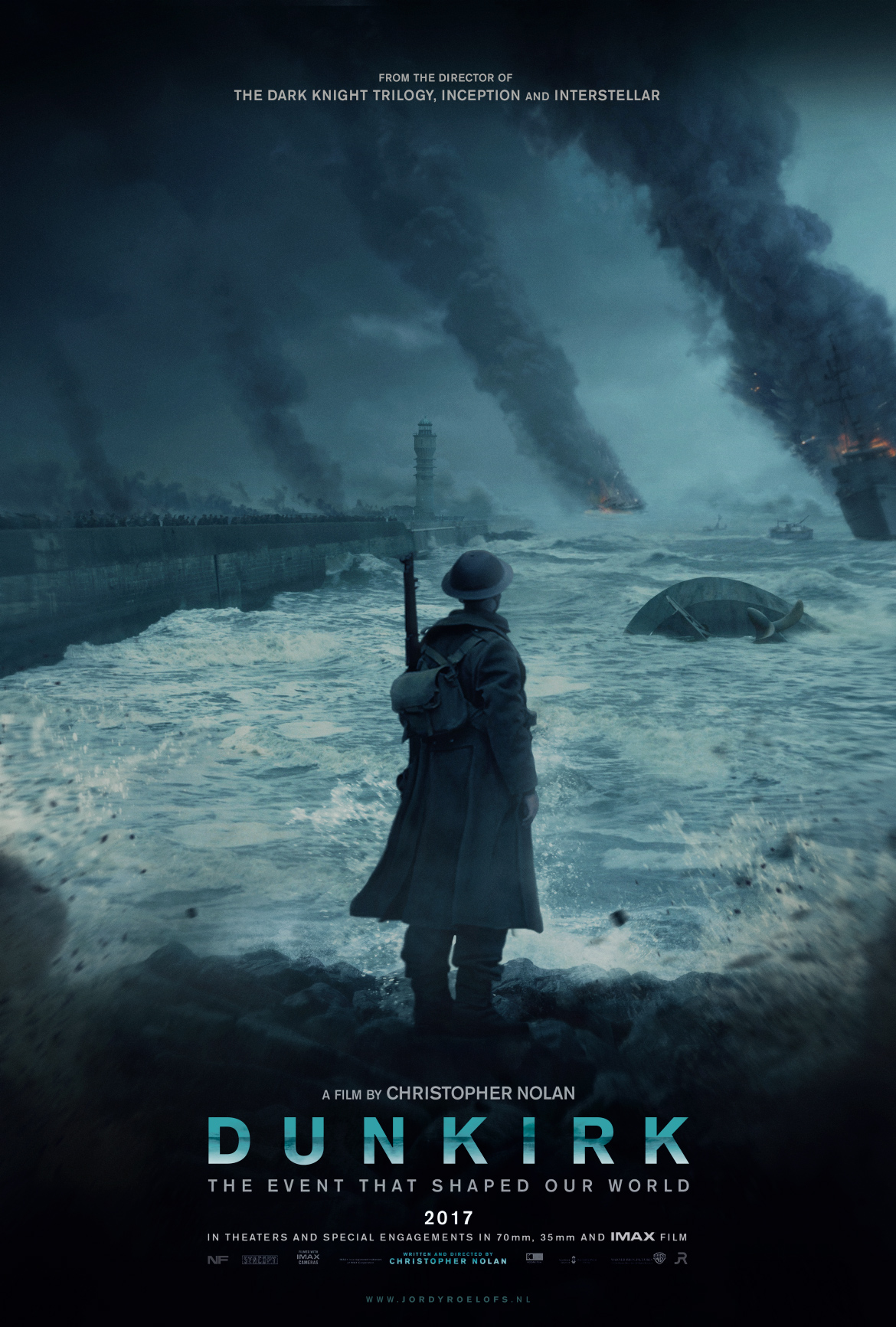 I feel like Christopher Nolan has been dancing around this film for his entire career.  As his projects have become more ambitious they've been matched by his ability to combine keen intuition and craftmanship.  Dunkirk is his modern masterpiece – a lean war-film that takes his love for time, his eye for stunning set pieces and his ability to juggle an ensemble to create something that's claustrophobic, inspiring and moving.  I dare you not to tear up as Tom Hardy glides his plane onto the beach, I dare you!
Lady Bird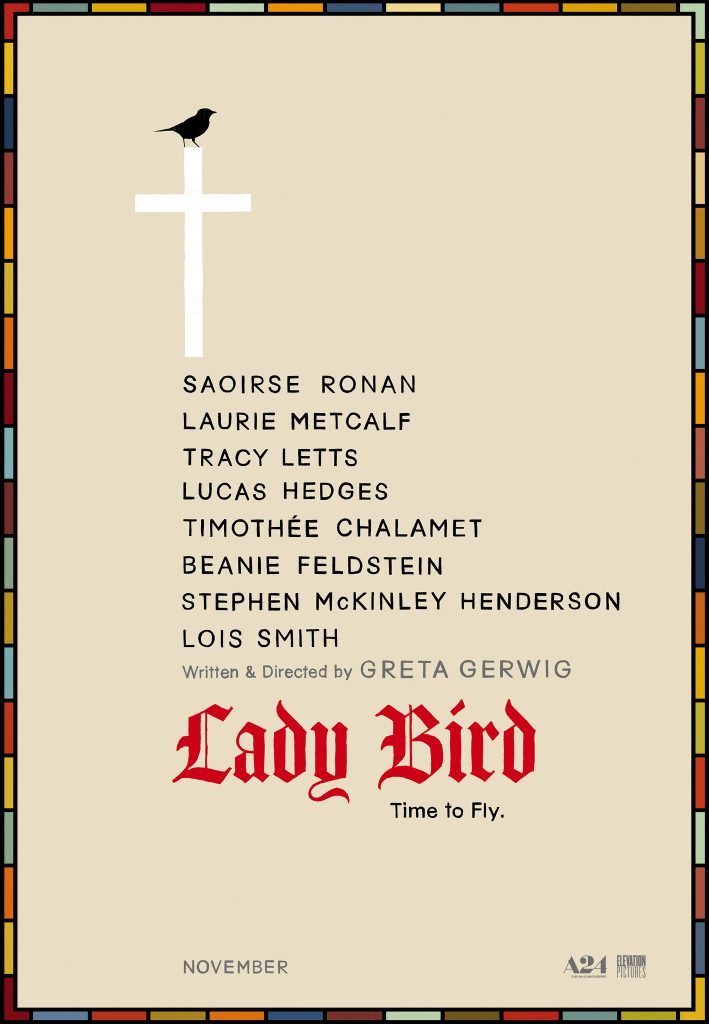 Greta Gerwig's debut feature about a girl called Lady Bird (Saiorse Ronan) living out her senior year of high school in Sacramento is one of two debut features on my list this year.  It's an assured vision of a family dealing with everyday turmoil, an economy that's preying on the middle class and a girl with an ambitious mind that outweighs her every action.  It's funny, insightful and heartbreaking – it's being 17.
Get Out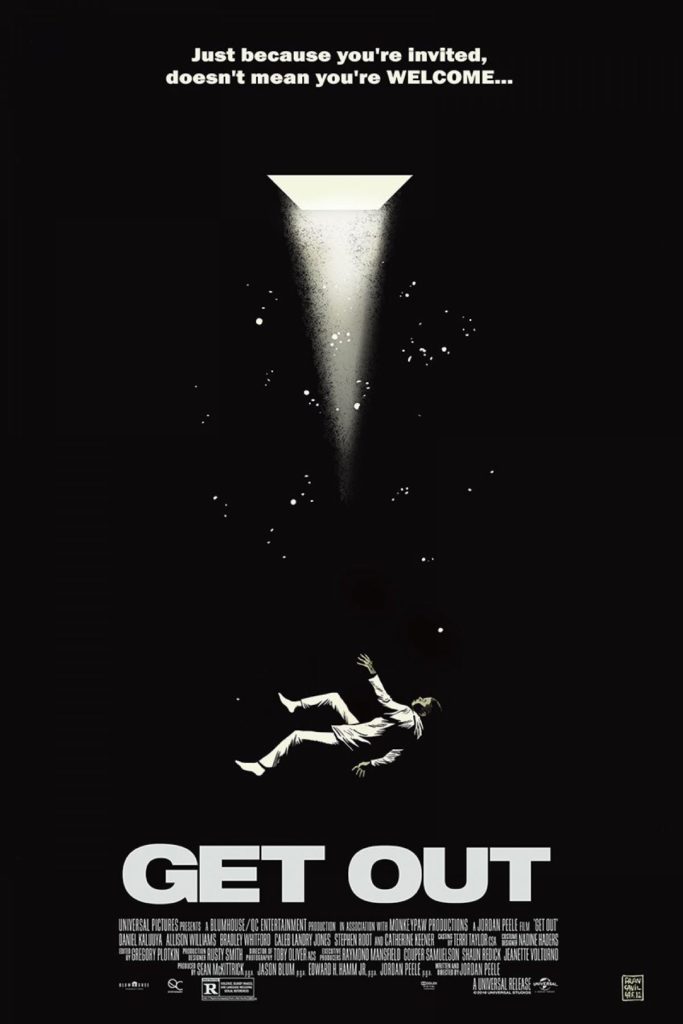 The Seattle Film Critics Society's choice for Best Picture of 2017 was truly the most fun I had in a theater this year.  Not only does Jordan Peele have a keen eye for satire and impeccable comic timing as a writer – he is a very good Director.  Sure, he wears his influences on his sleeve (who doesn't) but every shot in Get Out is dripping with purpose and symbolism.  Peele and his cast deserve all the praise they are getting, it's a pure cinematic experience.
Phantom Thread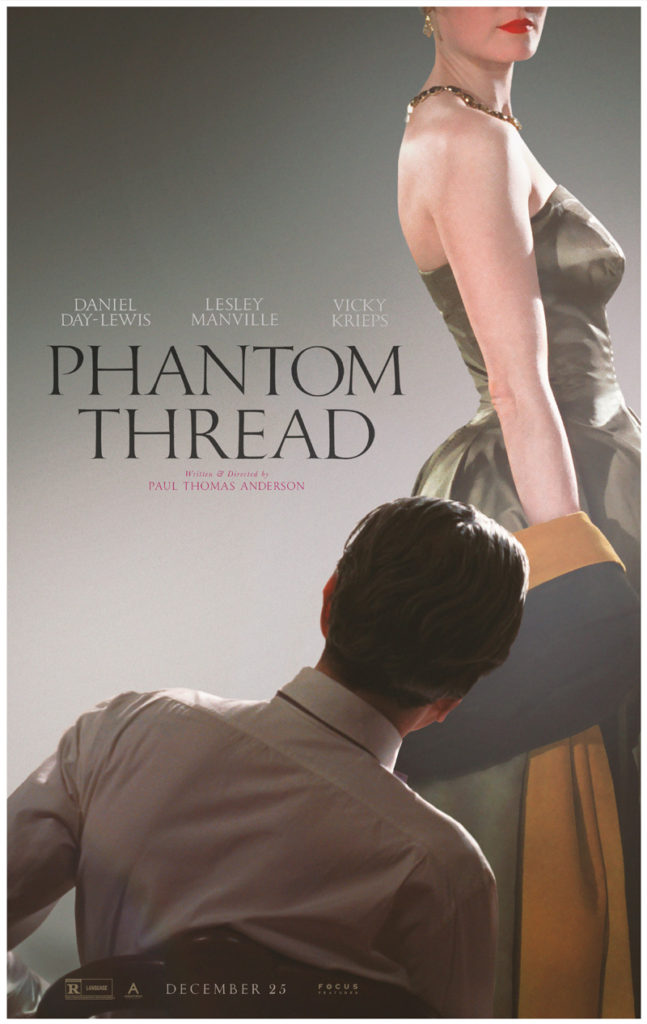 Daniel Day Lewis' swan song is a truly beautiful spectacle – one that could only have been crafted by Paul Thomas Anderson.  Reynolds Woodcock (still the best name of 2017) is a couture dress designer in 1950's England who is also a bit of an asshole – very particular in his ways.  When he stumbles across a new muse in the form of waitress Alma (the show stealing Vicki Krieps) a new dynamic emerges for the lifelong bachelor – a strangely monogamous one.  If this is truly DDL's last goodbye it's a beautifully understated one, a twisted funny number with costumes I wish I could live in.
War for the Planet of the Apes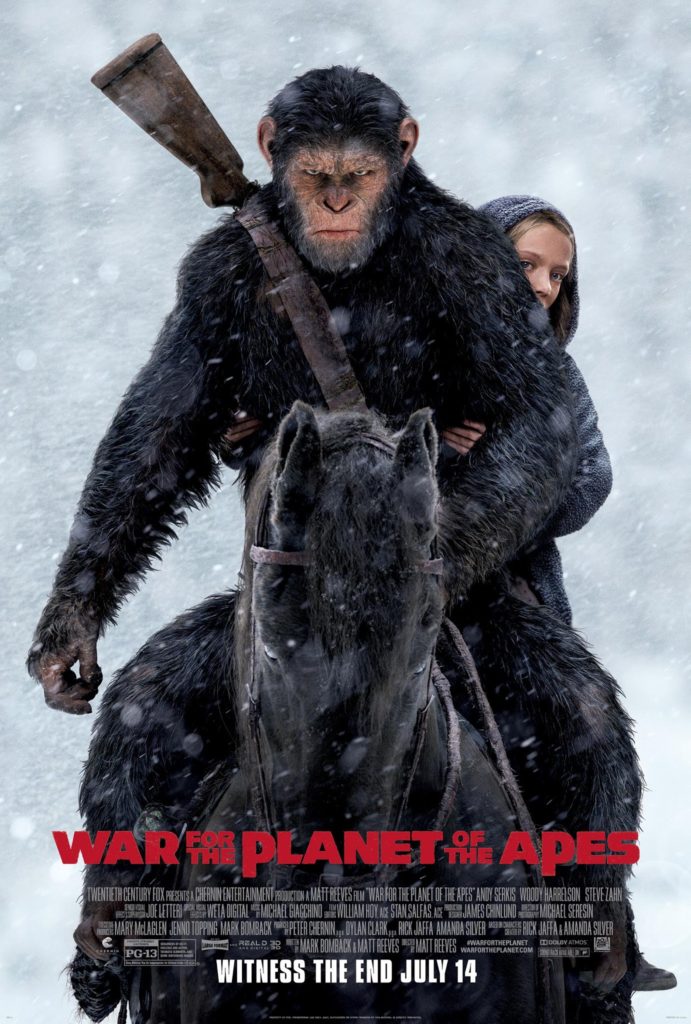 The conclusion of the modern (and marvelous) Apes trilogy is not the war movie we were, ya know, expecting from the title.  In fact, this is much more of a slow burn as we learn the fate of Caesar and his band of talking bonobos.  The special effects are top notch and Andy Serkis once again gives depth and nuance to Caesar – a character that potentially could still be real.  It's a monumental achievement by Director Matt Reeves and I hope time will truly help place Apes in the modern blockbuster pantheon where it deserves.
Blade Runner 2049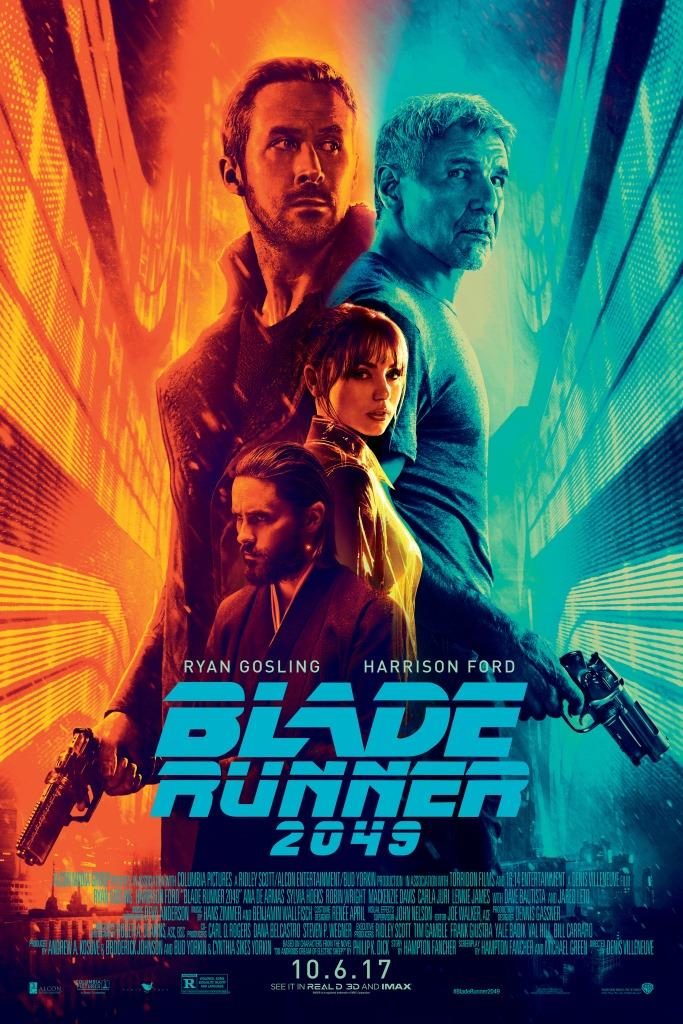 Creating a sequel to a beloved (if misunderstood) film of the 1980's is a bold move, but we seem to be doing that a lot lately.  But, instead of a reboot Director Denis Villeneuve gave us an expansion and continuation of the Blade Runner universe (not to mention the most eye candy in the theater this year.)  Sure, Los Angeles is just as drab and rainy as ever but the first time we see Ryan Gosling's K he is well beyond the reaches of the city, exploring territory only hinted at in the original.  2049 does precisely what The Force Awakens couldn't – tip your cap to the original and move forward – no need to revel in it.
Wonder Woman/Logan
I know, I'm cheating a little bit here but it's my list so shut up.  I have become increasingly jaded by the superhero theater experience over the last several years and judging by the output in 2017, I'd say filmmakers had to.  We got fun, shiny continuations of Thor and Guardians, Breakfast Club Spider-Man, and plenty of winks at 2018's Infinity War.  But the two best moments in superhero lore of 2017 were Diana emerging from the trenches on the battlefield during WWI in Wonder Woman – an instantly iconic moment for the best DC character currently on the market. The other came as the enigmatic Logan sits with a nice family at dinner with a disheveled Professor X and a runaway mini mutant and, just for a moment, finds peace in the normalcy.  Hugh Jackman and Gal Gadot – hats off to both of you.
The Post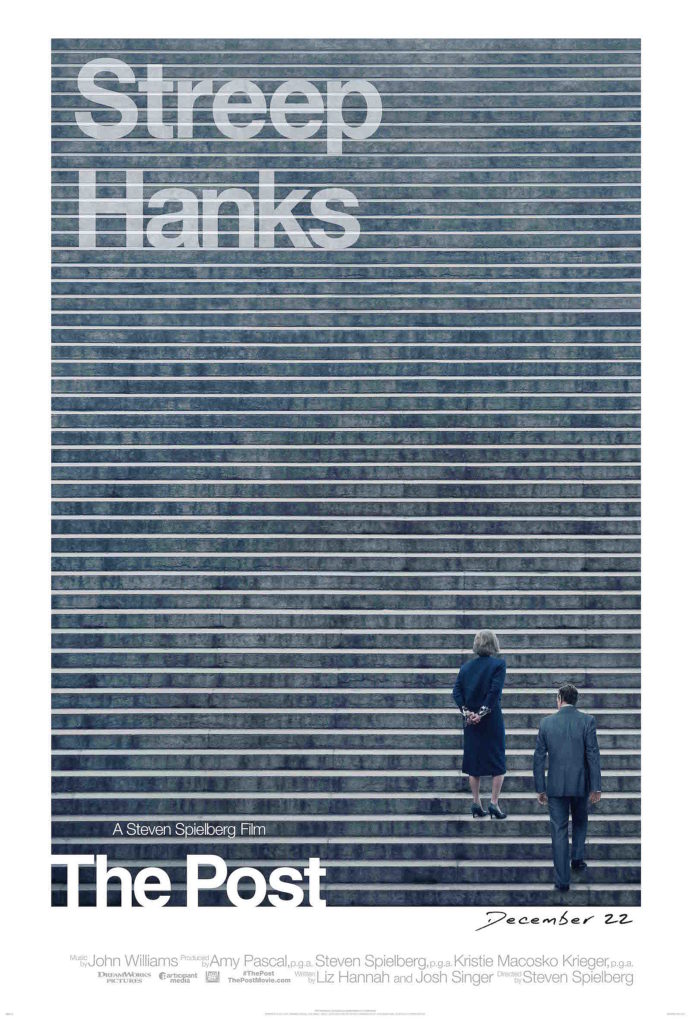 Saying a film is timely always feels cheap, as I'm sure The Post would be just as timely if it was released in 2008.  That said, Spielberg felt this was the right moment and using his cinema wizardry assembled the most A-list cast on my list this year to tell the story of brave journalists in the 1970's at the New York Times and Washington Post exposing a 3-decade long conspiracy to cover up the government's role in the Vietnam War.  Hanks and Streep lead a cast of all-stars as they deftly navigate the questionable ethical landscape of their endeavor and deliver a rousing piece of filmmaking.  It's stand up and cheer type of stuff – and I'm here for it.
My Favorite Film of 2017: The Florida Project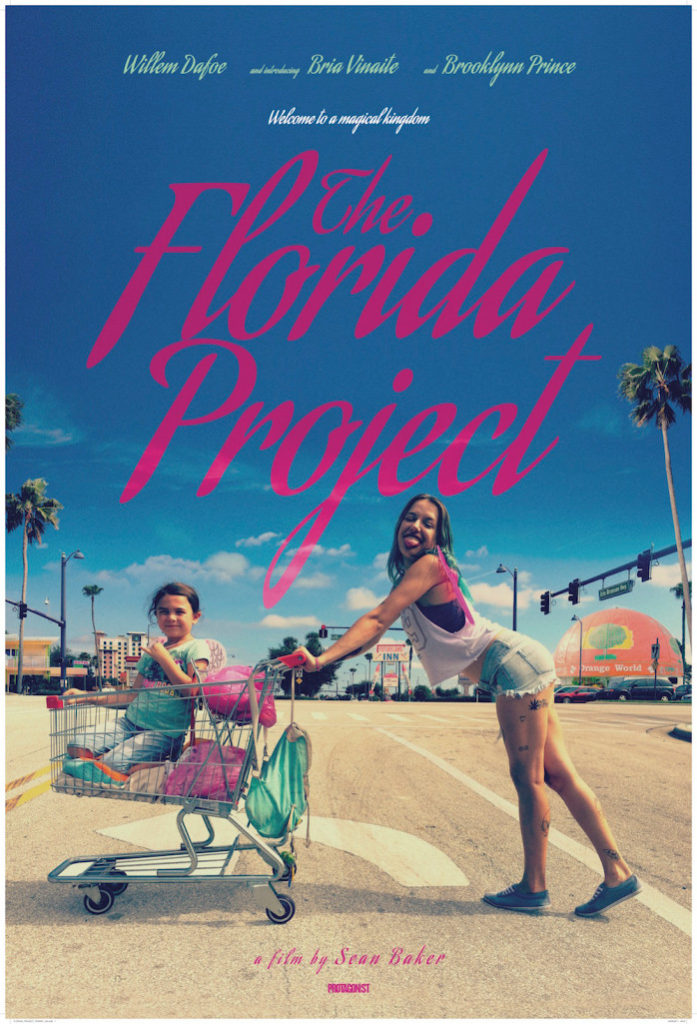 No other film this year moved me quite like Sean Baker's incredible work in The Florida Project.  The simple story seen through the eyes of Moonee and her friends as they live out a sweltering summer in a small motel next to Disneyworld is a deft dissection of lower income, forgotten American's.  It's a section of the population that is marginalized but fighting, for every inch they can get.  Willem Dafoe is the film's heartbeat – offering whatever assistance he can to his "residents" who aren't exactly supposed to be living there.  But the emotional core belongs to little Brooklynn Prince and her tiny band of buddies – they are the ones who must absorb the choices their parents make and be the next generation to adjust to them.  It's hopeful and heartbreaking, it's the best film I saw this year.