Superhero fatigue is known and understood in the Hollywood landscape. The sheer amount of movies leveraging spandex and face-punching filling the cultural cup, dare I say, has runneth over. But there is a different kind of fatigue spreading throughout Hollywood only slightly under the radar – nostalgia sequel fatigue. Over the last few years the industry has gone back to the well on several properties, hoping to recapture the cosmic glory of the original installment. Think Anchorman 2, Dumb and Dumber Too – even on Netflix with Wet Hot American Summer, Arrested Development and Fuller House. The need to check in on properties of the past is pervasive. Because of this (for better but mostly worse) we have Zoolander 2.
It's been 15-years since we last checked in with everyone's favorite male model and his orange mocha frappuccino. Time changes most but not Derek Zoolander. Early in one of the silliest moments of the film we get a quick montage recap of what he's been up to. After ACTUALLY building the Center For Kids Who Can't Read Good and Wanna Learn To Do Other Stuff Good Too Derek is struck with tragedy as the building collapses on opening day, killing his wife. As a single father Derek fails miserably. He laments his loss through simple things like, "how do you make spaghetti soft?" or, "does chocolate go in the toaster?" – you know, life's important questions.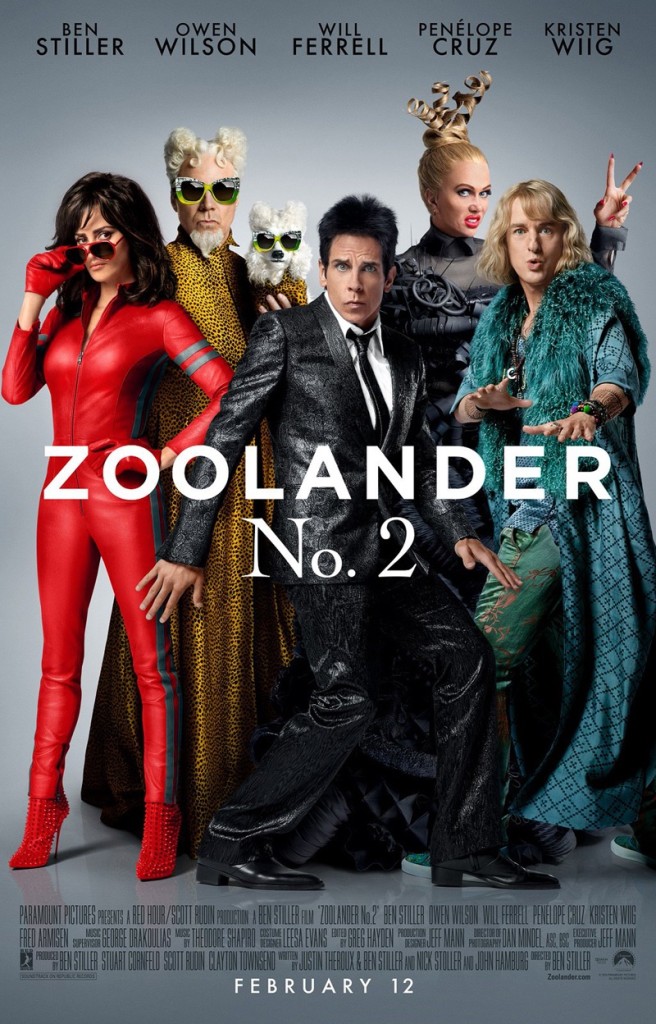 It's not long before Derek Jr. is taken away by child protective services leaving him with little purpose. He assumes the name Erik Toolander and retreats to a mountain hideout in extremely northern New Jersey.  Meanwhile his enemy turned ally Hansel (Owen Wilson) is dealing with his own problems.  Living in the vast deserts of Malibu, the fair-skinned dunce cap learns he has several children on the way.  His super-seed has impregnated the entire orgy he shacks up with (including an intensely emotion Keifer Sutherland and the other men.) Neither man wants to face their problems but when Billy Zane comes calling with a job, they can't resist returning to the glitz and glamour of high fashion.
The dim duo meet in Rome and dive headfirst into a conspiracy neither has any grip on.  Here they are met by Interpol fashion division operative Valentina (stunning, ageless wizard Penelope Cruz) who hopes to use the men to get to the bottom of a string of celebrity murders.
As the plot glacially unfolds I began to wonder what Ben Stiller and fellow screenwriter Justin Theroux were going for here.  There are several opportunities for them to comment on the evolution of the fashion industry and how outdated Derek and Hansel have become and a couple of times it works.  They meet an omnisexual fashion icon, All (Benedict Cumberbatch) in a bizarre exchange wherein it's clear they don't want to offend but also attempt to make a point about the ever-changing nature of the industry.  The dimwits also meet young designer Don Atari (a very funny Kyle Mooney) who can't help but comment and insult their retrograde style with every sentence.
And that's what Zoolander 2 is – a series of moments surrounded by heavy, unnecessary plotting.  What made the original so fun was it's breezy style and lack of convention.  It lambasted the fashion industry with a heavy dose of respect.  Here – as with many comedy sequels – the act feels played. Sure the film still has it's fits of hysterical brilliance (the opening gag – an extended chase sequence/murder of Justin Bieber is wish fulfillment of the highest order) but it's too often bogged down by a lack of focus.
Derek Zoolander may still be really, really, ridiculously good looking but his moment has passed him by.
Rating: