"What good is the warmth of summer, without the cold of winter to give it sweetness."
– John Steinbeck, Travels with Charley: In Search of America
This Pulitzer and Nobel Prize winner had something right (other than the success of his 72 books and numerous awards)—the end of summer is bittersweet, both its coming and going should be reveled in to understand its full seasonal intention. As far as food consumption goes, in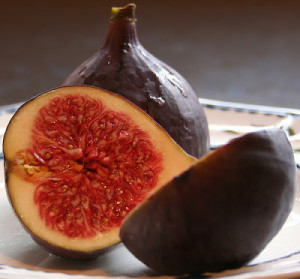 retrospective, it seems I have tried to take Steinbeck's words in stride with the seasons. This summer has been abundant; we Northwesterners are lucky to still see a few more bright days and a prosperous harvest for food, hops and grapes from a sun-drenched summer.
A late summer delicacy that took advantage of the summer warmth to ripen in sweetness is the fig. Yes, Newtons come to mind, holiday pudding that you've only heard about yet not seen, the color of your great aunt's teeth after her bottle of wine is drained at family gatherings—fig isn't particularly the kitchen novice's first grab for summer goods. Fortunately, the fruit is approachable, rich and complementing to many meats and dishes, from chicken and steak to salad and desserts. In other words, this fruit is the shit.
I took to my research on what dish to do with figs via Facebook, polling my peers and colleagues in hopes of finding the right recipe to take on for my beginner-plus kitchen skills. Fail (typical), as the first Facebook recommendation was for Newtons, but I did have a few good finds from adventurous to relatively safe. I went middle of the road with lamb. I mean, the Interwebs say you cook it like beef so it can't be too mystifying of a meat, right? And lamb really isn't that cute when you see it in pieces in deli case. Albeit a hair gamey and mineral-heavy in flavor, lamb is juicy, piquant and extremely flavorsome so a simple salt and pepper seasoning with the robust accompaniment of figs is satisfying as is.
I snagged some local herbs and marinated the lamb in said plants to draw out the savory tones of both the meat and fruit in this accessibly adapted Bon Appetit recipe. Grab an equally gamey and muscular Syrah to pair with to boot and you've got yourself a meal.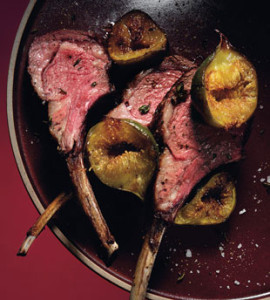 Eating: Lamb Sirloin with Fresh Herbs and Roasted Figs (recipe built for 4)
1 tablespoon chopped rosemary
1 tablespoon chopped fresh thyme
1 tablespoon chopped oregano
1 ½ pounds sirloin, trimmed and cut into 6 ounce portions
Olive oil
2 garlic cloves, sliced
2 tablespoons canola oil
10 ripe figs, halved lengthwise
Rub those sirloins down lavishly with olive oil. Combine the chopped fresh herbs then rub a half portion on the lamb, place in a freezer bag large enough for them to lay down in the refrigerator and toss in the garlic slices. Shake the bag up to evenly distribute the goods. You can do this overnight and as short as two hours prior to cooking.
When it comes to cooking time, set the oven to 425°F. Once you're there, heat the canola oil in a large cast-iron skillet over medium-high (7.5/10 on my dial). Season the sirloins with salt and pepper on both sides then lay into the skillet until you get a good sear (3-4 minutes) on the first side then flip and move to the oven to finish the cook for 7-8 minutes. Remove from oven and rest on a plate for 10 minutes before serving. This resulted in medium-rare for me so if you wish to cook longer, keep an eye on it or realize that medium-rare is the only real way to go.
For the figs, drizzle out half of the pan drippings and toss the figs in with the remaining herbs and more olive oil (1 tablespoon should do the job). Roast in the oven at the current temperature for 10 minutes as your meat rests. Once finished, plate the sirloins, top with the figs and place a couple sprigs of herbs on the dish for good measure/Instagram likeability.

Drinking: Ross Andrew 2009 "Old Blocks" Syrah, Boushey Vineyard, Yakima Valley
Washington Syrahs tend to go one way or the other—big, blueberry pie bombs or earthy, animalistic and looming. As the state's oldest wine growing region (30 years this year!), Yakima Valley knows a thing or two about what varieties work where and Rhone varieties, like Syrah, take to the silt and basalt-rich soils and the cooler climate from proximity to the foothills of the Cascade Mountain range. The type of Syrah (goo-ball vs. dark, furry creature) can depend on the vineyard selection, when the grapes were picked and how they were treated once back at the lab. Grapes from "old blocks" like this from the acclaimed Boushey Vineyards (one of the first vineyard plantings in Yakima, this specific block turns 20 next year) can offer a depth and concentration in the fruit that younger vines just do not have the capacity to produce.
Specs: Easy oak treatment (only 50% of the wine ages in French barrels) and moderate alcohol for this smoking hot year (remember 2009? It was hot!), this wine emanates the land from where it comes. Earthy, smoky, spicy and sprinkled with peppercorn, the fruit is dark and opulent. The blueberry is there, along with black currant and brambly fruit tones, however the wooly, wild side pulls out with savory herbs, baking spices, cool acid and firm tannins to grip to the carnal-flavored meat you're cutting into.
Medium-rare, earthy lamb with herbal figs and savory Syrah make congenial partners to hold your hand as the warmth of summer fades off and winter graciously slides in with its bittersweetness.