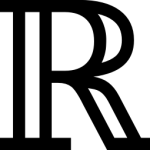 obert Rodriguez is a contradiction. He's a punk traditionalist. His love of movies is rooted largely in two things: the accidental genius of the creatively bankrupt genre hacks at the edges, and beyond, of cinema history (pure camp), and the filmmakers who have reclaimed and redeemed those clichés into a kind of postmodern highbrow literature (applied camp). 1960s and 70s independent filmmakers like John Carpenter (Escape from New York), George Romero (Night of the Living Dead), and Wes Craven (Last House on the Left) took the building blocks of pulp movies—cheap horror and exploitation flicks cranked out to make a quick drive-in buck—and reworked them into cheap horror and exploitation flicks with a message: movies that indirectly—but intentionally—commented on the political and social issues of their day.
The next generation of pulp fanboy filmmakers—e.g. Sam Raimi (Evil Dead), Peter Jackson (Dead Alive), Robert Rodriguez (Planet Terror)—have taken their forebears' 180 and given it another flip:  the "Why so serious?" school of grindhouse, which satirizes, or completely rejects, the political subtext of the 70s indie filmmakers. So in a way, Rodriguez et al. have brought pulp back to its origins: pure entertainment with no higher-brow intention than to entertain the audience, messages be damned. With the added dimension of folding the very idea of message filmmaking into the satirical stew. Or, in the case of Machete Kills, satirical hash.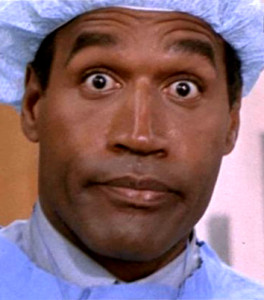 Machete (2010) was a celebration of Z-grade action pulp, of the kind of movies that work better when drunks are yelling at the screen. But where Machete was a straight-faced contribution to the grindhouse canon itself, Machete Kills is more of parody. Not having fun with the genre conventions as much as making fun of them. I don't think this was Rodriguez's intention, necessarily, but the movie is too aware of itself to work. It's like a Zucker-Abrams-Zucker-style spoof, like Airplane or Naked Gun. Gag after gag after gag, cemented together with more gags. Till you want to, you know, choke or something. You seriously would not be surprised to see an O.J. Simpson cameo.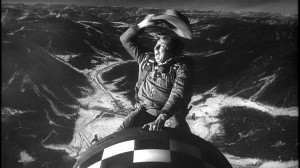 Joe Orton, the great British farceur, once said a farce won't work if the characters are in on the joke; they have to play it seriously. In other words, they have to be the joke; it's not as funny if they're just telling us the joke. This is where Machete Kills fails. After about the first 20 or 30 minutes, it becomes clear that self-aware gags is all we're getting. Don't get me wrong: I have no doubt Machete Kills will find its audience. There were some people having a ridiculous time at the screening I attended. But in observing these guffawers and making a snap judgment based solely on appearances, I realized what it was about Rodriguez's gags that wasn't working for me: they were all in-jokes. As a movie fan, when I see someone climb on top of a nuclear missile just as it's being launched, I get an extra little chortle from "getting" the Dr. Strangelove reference. But what if you've never seen Dr. Strangelove? All you get is Danny Trejo riding a rocket. Not really all that funny, while pretty much destroying any possible suspension of disbelief.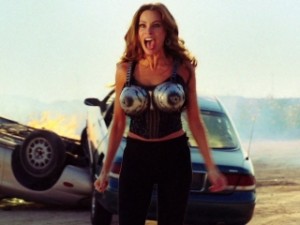 A lot of this kind of thing can be forgiven, of course, provided one simple rule: it has to be funny. Burt Reynolds once said that when he was producing a movie he didn't allow his writers to smoke pot. Not because he had anything against pot, but because when you're high everything is funny. I'm not saying Rodriguez was high; I'm saying that I'm sure a lot of the gags he came up with seemed funny at the time, and were probably frikkin hilarious on the set. Tits that spray machine gun bullets? Check. A getaway vehicle built to look like a Star Wars hovercraft? Check. An undercover disguise for totem-faced Danny Trejo that consists solely of a tuxedo and hipster specs? Check. Even worse, Rodriguez recycles jokes into the ground. One of the best moments in Machete is when, in response to an unreasonable request, Trejo intones, "Machete don't text." I laughed. In Machete Kills, we get this joke over and over and over again. "Machete don't ______" becomes his standard, expected response. I kept waiting for him to say something like "Machete don't pass the salt."
Of course inevitably, with a talent like Rodriguez, some of it is frikkin hilarious. Charlie Sheen, who plays the President of the United Fucking States, is credited as "And Introducing Carlos Estevez," his real name. The stunt casting of the master-of-disguise hitman, played by a Russian doll of layered celebrities like Cuba Gooding Jr. (Shadowboxer) and Lady Gaga (known for playing Girl at Swimming Pool #2 [uncredited] in episode 35 of The Sopranos), works pretty well. And the performance by Oscar nom Demian Bichir (A Better Life) as the flamboyantly nutso bad guy is the best thing about Machete Kills. But when Rodriguez runs out of ideas, or at least appears to run out of focus, and Machete Kills drifts away from parodying low-budget exploitation flicks into such well worn territory as Bond movies and SF—with the bad-guy reins handed off unceremoniously to Mel Gibson's version of Ernst Blofeld—he lost me completely.
But hey if your idea of a good time is a live action Warner Brothers cartoon with titty machine guns and not one but two deaths by helicopter blades, Machete Kills is the movie for you.
Rodriguez is too far advanced in a pretty impressive career to cobble together a mess of amateurish jokes just because they seemed funny at the time. We—I—expect more from the maker of The Faculty, Desperado, and Planet Terror.

Machete Kills
Opens today nationwide
1 hour 47 minutes
Rated R
Director Robert Rodriguez
Screenwriter by Kyle Ward
Open Road Films
Danny Trejo
Demian Bichir
Mel Gibson
Michelle Rodriguez
Sofia Vergara
Amber Heard
Antonio Banderas
Cuba Gooding Jr.
Walton Goggins
Lady Gaga
William Sadler
and introducing Carlos Estevez as the President of the United Fucking States