Harry Potter isn't afraid of the dark.
Daniel Radcliffe is all grown up.  The fact that he's moved on so quickly from the 'Harry Potter' franchise is fairly monumental news considering he's been playing Quidditch since he was 11.  Now at 22 Mr. Radcliffe is finally ditching his wand for less magically-inclined pursuits.
His newest film, 'The Woman in Black,' finds him as Arthur Kipps (a late-1800's attorney) visiting a small village to wrap up some loose ends at a mansion who's residents have passed on.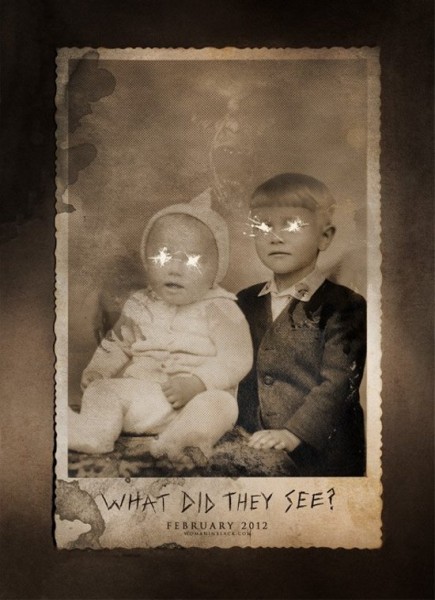 There is a small problem though: the mansion (the aptly named Eel Marsh House) may be haunted.  As Arthur enters the village he is greeted with an ominous disdain as most villagers know about the nature of his visit and would like nothing more than for him to leave…quickly.  Luckily he meets the only resident, Daily (a wonderfully smug Ciaran Hinds), who's willing to help.  Daily ensures Arthur the stories of the mansion are old wives-tails and his journey should be a simple one.
But of course we know better.  Upon Arthur's arrival at Eel Marsh House the scares begin…and there are scares aplenty.  Creaky floorboards, faceless silhouettes, creepy dolls and stuffed monkeys are just a few of the horrors Arthur encounters on his journey.  It is amazing he gets any work done at all seeing as any remotely quiet moment he gets is interrupted by a door swinging open wildly or a faint music box beginning to play.
Radcliffe grew up on screen so it's often difficult to separate the now-man from the then-boy wizard.  Even here, in his Victorian-era garb, he struggles to grow up.  It's not that his performance is unconvincing but his presence is slight.  The camera can only do so much to cover the fact that Radcliffe is not exactly stout.  The film has long stretches with little-to-no dialogue and in these Radcliffe is engulfed by his surroundings.
Maybe that's the point because Eel Marsh House, no matter how dusty, dim and garish is an absolute marvel to behold.  The details from the wallpaper to candle holders are painstakingly realized and director James Watkins gives us ample time to soak in the atmosphere.
Have we seen the haunted house story before? Yes, but Watkins knows this and focuses on what the genre does best: bumps in the night, dimly-lit corridors and well-timed shrieks.  The film also achieves an ending that is way more satisfying in its conviction than 98% of Hollywood productions.  'The Woman in Black' has its issues but on the whole it stands far above the standard early-year fare.
"The Woman in Black" opens today in several Seattle-area theaters.